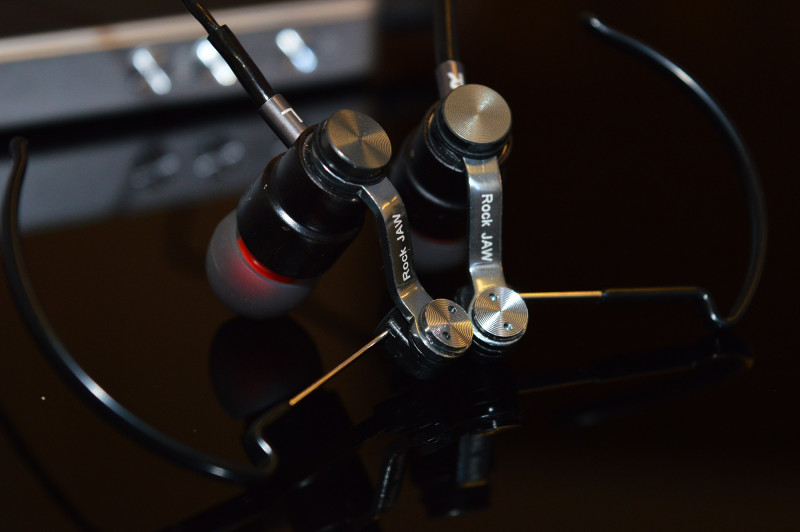 We review a lot of earphones each year, so of course we end up with a few favorites. And of those favorites, the best of the best usually end up in my gym bag for my own personal use (that is a perk). And over this past year we have reviewed some exceptional ear buds, including the Zipbuds Pro and Audio Technica SonicFuel ATH-CKX5iS… but over this past month we were introduced to a British-engineered brand that has managed to blow us away in sound quality, build quality and price point – Rock Jaw.
The Sound
The Rock Jaw Kommand offers a balanced armature + 8mm dynamic drivers and comes with three interchangeable tuning filters. The first thing we noticed about this hybrid combination is when we gave them a listen they offered about 30 to 40 percent more volume than most other brands. This means that you get a full spectrum of your favorite music at a fraction of the volume. And something else we noticed is even when you turned up those other brands, the sound quality was not as crisp and clear.
And as far as those tuning filters go – they work brilliantly. Whether you prefer your listening experience to sound bright, neutral or bass-happy, you just screw in the appropriate filter and that is exactly what you get. For the gym, I tend to prefer hard driving tunes, so the extra bass was welcomed with a smile and extra pep on the treadmill. And this is not the heavy indirect muffled bass you experience with some of those high-end ear buds (I won't mention any names) that are 'known' for their bass production. The Kommand offers a crisp and clear punch in the lower frequencies that will shake your soul but won't interfere with the production of all those important high and mid-frequencies.
Materials
The Kommand is made with the beautiful mix of wood and aluminum… and it's not just for looks and bragging rights, as you can hear the improved sound quality. The ear tips are also very comfortable and well-built. They feel secure, clean easily and feel soft in your ear but durable in the hand. And Rock Jaw has thought of a lot of the little things that high price buyers often take for granted and the mid-priced buyers (under $100) don't often get to experience. I'm talking about the 'Hybrid' driver configuration, tuning filters, high quality braided wire, lightweight aluminum/wood body, comfortable ear tips and unique ear hangers to keep them on even if you like to play rough.
Is there Anything We Don't Like?
Well no, actually, but there is something about these ear buds that may take a little experimentation and getting used to – the 'ear hangers'. At first these did not seem to fit on any of our ears. In fact, they provided just enough confusion, that we found ourselves twisting them in every direction trying to figure out if we were maybe just mutants. But here is the deal… don't give up! These arms were made to adjust, and there is a setting that will enable the buds to sink comfortably in your ears while also being supported gently by your head.
How I found my own custom fit is I adjusted the buds in my ear first without even worrying about the hangers. Once I had them sitting comfortably in my ears, I twisted the hangers around until I no longer felt any pressure from the gravity of the wires. The payoff from this design is that they may not be exactly small, but you will hardly know they are there once you get them adjusted properly, and you won't find yourself constantly re-twisting them into your ears to maintain the best sound quality (even if you're sweating). One of my biggest complaints with most ear buds is they weigh down during high activity and end up slipping out of my ears. And of course, the sweatier you are the worse it gets. However, with these Kommand's that was never a problem.
I don't mind giving credit where it is due, and the Rock Jaw Kommand is definitely the best ear buds I have listened to all year for under $100. And in fact, these are a good bit under $100, coming in at around $70 on Amazon at the time of writing this. Don't let its somewhat funky high-tech design scare you, as once you get these adjusted properly they really do look great, sound fantastic and stay put.
Get a pair of your own here.
Eric has written for over a decade. Then one day he created Urbasm.com, a site for every guy.