Audio Technica has been in the business of audio entertainment for the past 53 years. Their brand has been approved by the great Alan Parsons. It has translated voices across Olympic stadiums, and developed technologies that not only block the sound you don't want, but magnify the stuff you do.
So when we heard that they'd tried their hand at a dynamic set of in-ear headphones with an in-line microphone to work with your smartphone… we expected it to be good. However, it is not just the technology that impressed us, but their innovative system to get as close to a custom fit as possible without having to be sized. Allow me to explain.
Fit and Finish
The Audio Technica's ATH-CKX5iS earphone system comes with the choice of four sizes of ear tips, and four sizes of outer ear braces they call "C-tips". Essentially, the inner tip is sized to fit in your ear with a gentle pressure, while the C-tip keeps it steady and in place. And it works. When I'm at the gym I am usually adjusting my headphones every couple minutes because something inevitably shakes the tip loose. With the C-tip in place, they stay put pretty good.
For me, the most comfortable set up came already installed in the box, but I did play around with the sizes just to see how they altered the fit. The basic sizes for both tips included the standard XS, S, M and L, which seemed to span a pretty wide range of possibilities. However, perhaps the biggest reason these impressed me is their 360 degree rotating tip. This means when you push them in your ear, you don't need to rub your ear raw to find that sweet spot. The earphone itself rotates and pivots, leaving the ear tip in its place. This in itself is a fantastic feature, as it helps to reduce excess slipperiness… and this is my best scientific explanation for how that works.
Normally when you twist an earphone into your ear, you stir up the skins natural oils. Essentially making them a little more slippery. Add a little sweat from a hard workout, and things can get pretty slick. These earphones reduce the necessity to constantly refit them into your ear, because they go in right the first time and stay put, therefore you aren't pushing sweat into your ear every time you adjust them. Perhaps I am the only one who has this problem at the gym, but I certainly love this solution.
The rotating tip is also a heck of a lot more comfortable, especially if you have sensitive ears like I do. This is probably why I am normally not a fan of in-ear headphones because my ears start to ache after a couple hours of use. With these, I never had that happen, and I think that is because the tips fit so well they don't rub or press on my ear tubes. So, we've established that these fit into ears pretty well and are more comfortable than average… but what about the sound?
Sound and Microphone Experience
I was very impressed with the sound quality of the ATH-CKX5iS, and I can say that out of my collection of gym earphones, these are still my favorite choice. The stated frequency on paper sounds impressive at 15-22,000 Hz, and in the real world that translates to some decent bass, great mid tones, and good highs. These are not up to par with the bass of other brands I've tried, but I think they've hit a happy medium. They sound good with pretty much any genre of music, so if you like to switch around to different artists like I do, these allow any music style to sound good.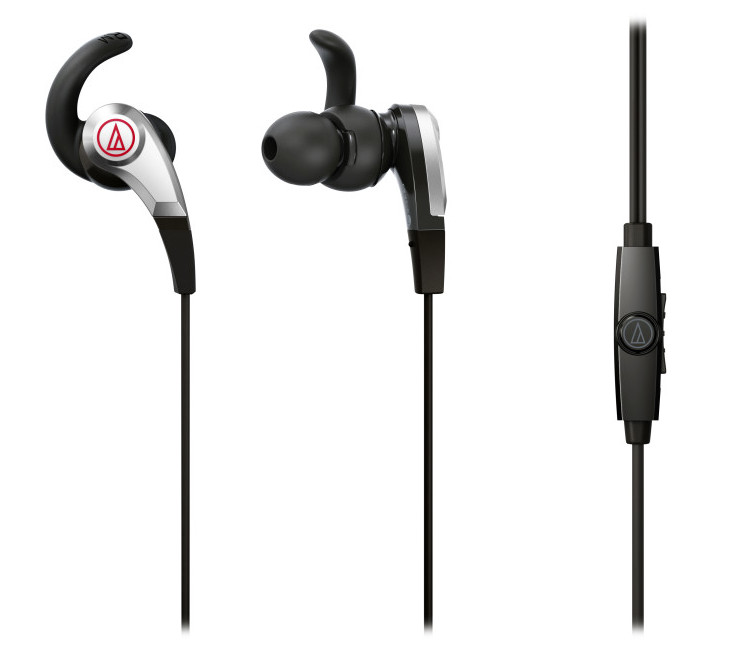 The microphone worked great with my Samsung Galaxy Note 4. I find that people often have a hard time hearing me when there is too much ambient sound distraction around me, like traffic and chatting voices. These seemed to help with that, and of course it also helped me, as they fit into my ear so well that barely any exterior noise gets through. In fact, I'd say that these do a pretty decent job of passive noise reduction. I was never able to get the in-line mic/volume to work with my phone (I'm not sure if it can), but I admittedly did not spend much time trying to get it to work. That is not a function that I tend to use very often.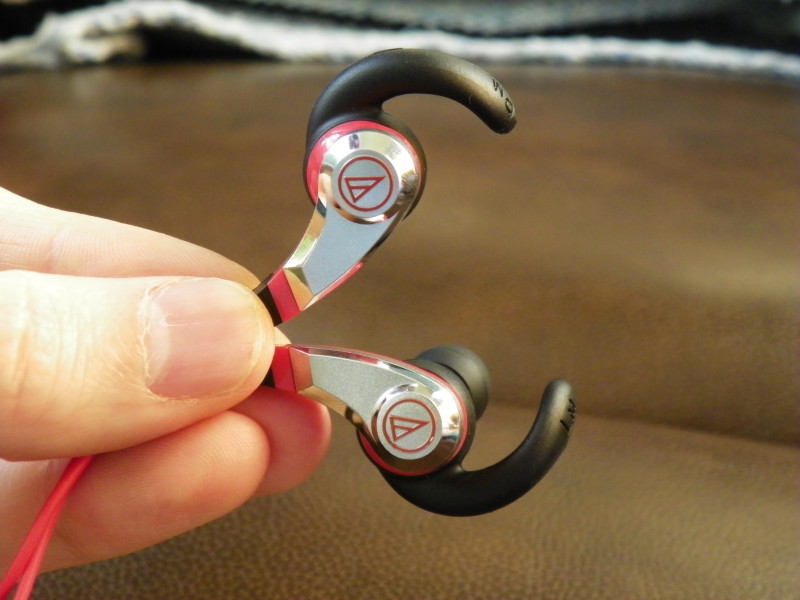 The SonicFuel also feels very durable and water resistant. I've had earphones in the past that failed in the gym environment due to excess sweat, but these appear to be sealed well. They are overall pretty big, mind you, compared to your typical earphone, but they don't feel that way once they're in place. The cord is also nice and thick and attached tightly to the base. I don't see severed wires being a problem with these. As part of the design, the wires are thickest at the 3.5mm audio connection and grow slightly thinner as they reach the ear buds. This helps to keep them nice and light where it matters most (around the face), especially if you're using them during an intense activity, like running.
I would say that pound for pound (and these are very light by the way) SonicFuel is one of the best Smartphone earphones for 'active' users. They are supportive, comfortable and offer great sound and good functionality. If I didn't already have a pair, I'd buy them here
.
Or if you'd rather have a free pair of Audio Technica SonicFuel headphones? Check out our giveaway here.
Urbasm occasionally receives vendor/brand sponsorship's for mentioning their products and services.
Eric has written for over a decade. Then one day he created Urbasm.com, a site for every guy.