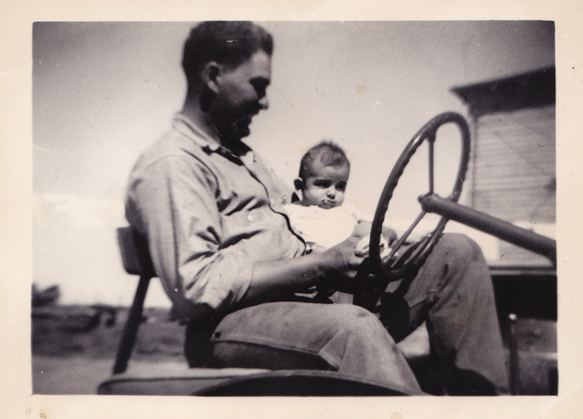 Your Father is the man who birthed you. Well, he may not have exactly been in labor with your body impacted inside his own… but he was likely a very integral part of the entire process of your birth (We'll spare you the details). He has likely bathed you, pushed you on a swing, beat up your bullies at school, taught you how to round up rattle snakes and become a man. And if you survived all that… you're probably looking for some payback – and we're talking about in a good way.
The question we're here to answer today, with the help of Old Spice, is what should all your Father has done for you be worth?
Worth a few ounces of cotton and downright embarrassment?
…We don't think so.
How about some drizzles of Swiss chocolate, gold aluminum and uselessness?
…Wouldn't recommend it.
Your Dad doesn't want a "Dad" tie or set of chocolate tools for Father's Day. No, he wants real tools. But not the kind that he can saw his own arm off with, but rather the tools that make a man feel like a man.
Okay, so let's get back to the original question. How can you really tell Dad 'Thank You' for all the stuff he's done for you over the years? Well, it really depends on what he is made of. And you know something about cool Dads? If you break them down to their very basics, you really end up with only two basic types.
And by answering the question of what your Father is made of—Old Spice can magically tell you what would be the perfect gift for him this year. Are you ready? Let's begin:
My Father (Husband- for our female readers) is Made of…
Blue Suede, Mojo and Mick Jagger = Old Spice Swagger Pack
Your father is made of blue suede, concentrated mojo and a hint of Mick Jagger (only the good parts). What should you get a man like that? Why, the Old Spice Swagger Pack of course. You see, most fragrances are afraid of your dad. Their wimpy attempt to blanket his natural scent will be met with instant defeat. You need an army of scent bombs to last him through the entire day, including Swagger body wash, Swagger shampoo/conditioner and Swagger deodorant… all in one Swaggerlicious collection.
The Swagger Pack can be found at Rite Aid and Walgreens, or you can buy individually at OldSpice.com.
Wood, Iron and Ferocious Beavers = Old Spice Timber Pack
Your father is a true outdoors man who knows the difference between frolicking through a batch of dandy flowers and hacking through a pine forest with some dental floss and a toothpick… just to give the trees a sporting chance. And men who like the smell of wood, don't know the word, "woodsy". To them it is either all or nothing, which should include a big jug of Timber body wash, Timber shampoo/conditioner and Timber deodorant… all in one massive pack.
The Timber Pack can be found at Target and Walgreens, or you can buy individually at OldSpice.com.
Help replenish Dad with some of the same man stuff he gave to you—because Old Spice has been helping men enter and secure their manhood for nearly 80 years:
And because a man can never have enough Old Spice—we're giving away one of these awesome World's Greatest Smelling Dad gift packs for absolutely free. All you have to do is enter our Raflecopter giveaway below:
OFFICIAL RULES
NO PURCHASE IS NECESSARY TO ENTER OR WIN THIS CONTEST. VOID WHERE PROHIBITED, TAXED OR RESTRICTED. Urbasm's Old Spice World's Greatest Smelling Dad Giveaway begins at 5:00:00 PM Mountain Time on June 14, 2015 and ends at 5:00 PM on June 28, 2015.
ELIGIBILITY. This Contest is open to legal residents of the Continental United States who are eighteen (18) years of age or older at the time of entry and can enter into valid contracts in their state of legal residence. Only individuals may enter; no entry from any corporation or other entity shall be accepted. This Contest is VOID outside of the Eligibility Area and where otherwise taxed, prohibited or restricted. By submitting an entry, each contestant: (1) agrees to these Official Rules, and the decisions of Urbasm, which shall be binding and final in all respects; (2) acknowledges that Urbasm has not made nor is in any manner responsible or liable for any warranty, representation, or guarantee, expressed or implied, in fact or in law, relating to any prize; and (3) warrants that he/she is eligible to participate in this Contest.
HOW TO ENTER. To enter this Contest, go to this link and either follow us on Twitter, tweet a message, or share a link to this giveaway on Facebook. Must use the Rafflecopter entry [above] to enter.
PRIZE(S) One (1) Old Spice World's Greatest Smelling Dad Gift Pack, which will include one Old Spice deodorant scent, one 12 fl oz of Shampoo & Conditioner and one 16 fl oz of Body Wash. Winner will be responsible for all applicable taxes, fees, and/or any other expenses associated with acceptance and/or taking delivery of the prizes. All expenses not specified above, including, but not limited to insurance, incidentals, etc., are the sole responsibility of the Grand Prize winner. All delivery arrangements will be as designated by Urbasm and are subject to availability. Prize is not redeemable for cash, and no substitution, assignment or transfer of any prize will be permitted. Odds of winning depends on the number of entries received.
WINNER SELECTION. On or about July 5, 2015, one winner will be selected. All prize awards are subject to verification and will be awarded upon winner validation and verification by Urbasm. The potential winners will be notified. If the initially selected winner is ineligible, cannot be contacted after three (3) attempts by Urbasm, the prize will be forfeited and an alternate winner will be selected. Limit one (1) prize per household.
Urbasm occasionally receives vendor/brand sponsorship's for mentioning their products and services.
Eric has written for over a decade. Then one day he created Urbasm.com, a site for every guy.