Combining beauty with comedy is every woman's God given right… and we here at Urbasm stand behind it 100 percent. Introducing one of our newest favorite standup comics, Eugenia Kuzmina, who also happens to be a successful supermodel and rising actress. In fact, she recently wrapped up a couple films working alongside such iconic men as Bill Murray and Christopher Walken. And need we mention that she also comes Chuck Norris approved.
Interested to learn more about her? We thought you might be.
Urbasm: Hi Eugenia.
Eugenia Kuzmina: Hi. I love your blog. I love it; it is really funny.
Urb: That is kind of you to say (blushing). We are huge fans of yours too, and were wondering what you having coming up this year?
EK: I have a film by Barry Levinson with Bill Murray, Kate Hudson, and Bruce Willis. It is called Rock the Kasbah (2015). I think it is coming out in April. We just finished shooting. We were in Morocco for a few months, so I think it was more challenging, physically, for all of us. It was pretty wild (laughs). It is an amazing film, and I think Bill Murray did such a fantastic job. I also had a scene with Danny McBride and Scott Caan, who were just incredible and so giving. They were great. It was a fantastic experience, and the script is really good.
Urb: What did you think of Bill Murray?
EK: He is brilliant. He conforms himself. He has to play this music manager in the film, and we had a scene where he came up to ask me something, and I answered out of the character (laughs).
Urb: Doh!
EK: (Laughs) But I learned a lot from him.
EK: And then I have a Jason Bateman movie coming out. It is called The Family Fang. I just finished shooting that in New York, and I have to say that it is one of the best experiences I have ever had. Jason is an amazing director and actor. It is really hard to do both at once—direct and order people around (laughs). He really makes you crack up, and gets the best out of his actors. You feel so tight on set with everyone. I also had a scene with Christopher Walken, and that was a lot of fun.
Urb: What was it like working with Christopher Walken?
EK: Well, he is a genius. Comedy has a certain music to it—and Christopher will just do his own thing. He gives you gifts of unexpected moments that just bring everything together. He is there for you. He is a great partner to work with. He brings 100 percent Christopher Walken to every scene.
For TV, I have The Comeback with Lisa Kudrow and Michael Patrick King. So, I am really excited about that. Lisa is an improve master, so we improvised all the time. Michael Patrick King was really fun. I actually recorded my audition on my cell phone while he was in the middle of the road somewhere (laughs).
Urb: That sounds different.
EK: But the show gets great reviews… and it was a surprise for the show to 'come back' after the Comeback.
My scene for the film, Fury (2014) was cut, so I am not going to be a part of that. But it wasn't because of anything I did (laughs). It was because they were trying to tell a story that was a man's story, and I guess women did not have a place in any of the characters, so they had to cut it. But–oh my God, I felt so bad for a few days, but I feel better now.
Urb: Maybe they'll come out with a directors cut that will include the scene.
EK: Yeah, exactly. I have not seen the film, but I have heard it is really amazing. It was really fun to do, and I learned a lot from that experience. It was like acting school for me.
Urb: We've read on your biography that you had an early start in film. You were cast in a Chuck Norris film at age 13 in Russia, but couldn't leave the country due to passport issues. Is that right?
EK: Yes, he came to my modeling agency. He was looking for a Russian girl, and they did an audition and I got it. But I had to have a passport, I had to be a little older; and I couldn't leave without parents. There were some issues, but it was really fun. I was surprised. I didn't take it seriously at that time. I was not one of those kids who knew I was born to be an actor (laughs).
Urb: Do you remember the name of the film?
EK: I don't. I just remember it was an action film.
Urb: And you're a comedian too?
EK: Yes. I like to see that there is a lot of female comedy coming up. For me it is really exciting, because that it what I love doing. It is what comes naturally to me. I feel like stand up is such a small world.
Urb: What are your favorite types of jokes?
EK: The modeling world is such an interesting place, and you can do a lot of jokes surrounding it. I feel like everybody is so serious about it. Especially male models. I also love dating jokes. I do a lot of jokes about my husband. Thank God my husband is amazing, so he just kind of rolls his eyes.
Urb: Have you ever had to deal with hecklers during a show?
EK: Sometimes because of my accent. But nobody has really ever heckled me that much. I am blond, so they are probably like, Well, you know; whatever. But I'm looking forward to hecklers. They are always welcome.
Urb: Do you have any comebacks already prepared for them?
EK: Oh yeah.
Urb: What do you prefer to do between modeling and acting?
EK: Definitely acting. I had a photo shoot recently, and I wore some amazing gowns—but then you go into this sweaty room (laughs), and I knew I wasn't there to bring my personality. I love art, but I also want to communicate with people.
Urb: Who would you most like to do a movie love scene with?
EK: Oh, you can't do that. I will get in trouble (laughs). I love Will Arnett's work. I think he is so talented and so unexpected. I would love to work with him. Woody Allen would be a good time. Women like interesting men (laughs).
Urb: We can see you with Allen.
EK: Right? I think I am going to pursue that (laughs).
Urb: And our final question is… what are three things that every guy should know about women, according to Eugenia Kuzmina?
EK: One—Women don't need a perfect guy that has it all. Be yourself, and don't try so hard. Two—I know it is such a cliché, but women love humor. Three—Learn how to dance.
Urb: Is dancing something that you find a lot of guys don't know how to do?
EK: Yeah! And women love that. Men are hiding it–I don't think they want to show it.
Urb: Well, on behalf of everyone here at Urbasm, we want to congratulate you on what appears to be a rising star to success.
EK: Thank you. It is exciting. Good luck to you too.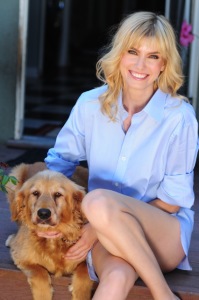 Russian-born international supermodel, Eugenia Kuzmina, has graced the pages of such magazines as Vogue, Elle, W, GQ, Marie Claire, Vanity Fair, Glamour, and others. She has worked with and starred in campaigns for Hermes, Lanvin, Cartier, Max Mara, Neiman Marcus, Versace, and a host of other top designers. She can be seen in the following upcoming films: Rock The Kazbah with Bill Murray, The Family Fang with Christopher Walken, and opposite Lisa Kudrow in a guest starring role on HBO's relaunch of The Comeback.
You can also catch Eugenia in comedy clubs such as The Comedy Store on the Sunset Strip where she performs her stand-up. She pokes fun at being a mother, wife, Russian, the daughter of a scientist, a model, and any other aspect of her life in which she can create a punch line. Learn more about this incredibly funny and talented woman at www.Eugenia-Kuzmina.com, and you can also follow her on Twitter, Instagram, and Facebook.
Read More:
Interview with Model, Julia Lescova
Interview with Playmate Tiffany Toth
Interview with Los Angeles Angels Pitcher, CJ Wilson
Eric has written for over a decade. Then one day he created Urbasm.com, a site for every guy.