"(I was eating a Burger King hamburger) with tons of f—ing dope (in my car)," explains Robert Downey Jr., during an Empire Magazine interview. "It was such a disgusting burger—I had that, and this big soda, and I thought something really bad was going to happen."
Some men have climbed to the peak of the Emei Shan Buddhist mountains to achieve a life-changing epiphany. However, it was the king of fast food that Robert credits as his savior. Immediately, after the burger incident, Downey drove to the edge of the ocean, chucked a sh** load of cocaine into the water, and put his career back on track.
None-the-less, every triumphant tale has a fatal beginning, and for Downey, it was an addiction that began at the age of six, coaxed by his father, director, Robert Downey Sr. "When my dad and I would do drugs together; it was like him trying to express his love for me in the only way he knew how," Robert told People Magazine in 2011.
Downey worked his way up through a short list of teen movies, Tuff Turf (1985), Weird Science (1985), Pretty in Pink (1986), and The Pick-up Artist (1987). These lead him to the comfortable position as a second-tier member of the "Brat Pack," which included core members, Emilio Estevez, Anthony Michael Hall, Rob Lowe, Andrew McCarthy, Demi Moore, Judd Nelson, Molly Ringwald, and Ally Sheedy.
In 1987, Robert had a funeral in his backyard, burying his Brat Pack image, and entered a mature phase in his career that would lead to an Oscar nomination for "Best Actor" in 1993 for his portrayal of Charlie Chaplin.
Robert's star would rise and fall quickly, as he was arrested for drug possession in 1996. In a bizarre tale of Goldie Locks, Robert broke into his neighbor's home, and fell asleep in their kid's bed (Downey is only 5′ 8" tall). He would wake up in prison the following day, and struggle with drugs and alcohol for the next seven years.
Burger King can only take half credit for Downey's current success, as he also credits his wife, Hollywood producer, Susan Levin. "(She) has got me in a freakin' choke chain, and I love it," the actor has joked to the press.
With his life on track, Downey began exploring new things, including Kung Fu, Yoga, and producing his first music album in 2004, entitled, The Futurist. While it wasn't a bad effort, it was not received well by critics, and he would vow not to make a second one.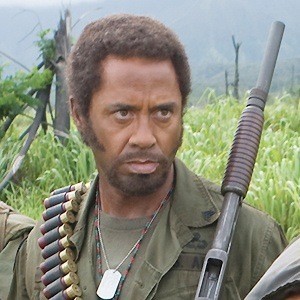 In 2008, Downey stepped into shoe lifts (at the directors request), and owned the character, Tony Stark, in the film Iron Man (2008). This would lead to his Oscar-nominated role of a black man, in Tropic Thunder (2008). Robert has said his character was a combination of Russell Crow, Danielle Day-Lewis, and Colin Ferrell. His fellow, black, co-star, Brandon T. Jackson, would go on to gush about his performance, stating, "To be honest, he played a black dude better than anybody I've seen!"
Eric has written for over a decade. Then one day he created Urbasm.com, a site for every guy.