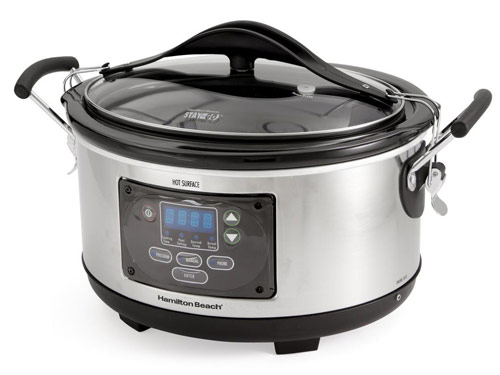 You probably remember one of these sitting on your Mom's kitchen counter whenever you had a big game and she wasn't going to have time to cook a regular dinner. Welcome to your manhood, and the realization that you have better things to do than make your own food, or wait around for a woman who'll do it for you. We propose getting yourself a slow cooker, and enjoying all the pleasures of a home cooked meal without the pain of doing all the work yourself.
A slow cooker (crockpot) is easy to use. You just throw a bunch of stuff in it, set the timer, and come back in a couple hours and a good meal will magically appear inside. It's healthy too. A hell of a lot healthier than your typical fast food burger or taco, and it's cheaper in the long run. And if you think that there isn't anything good you can cook with it, how about some homemade macaroni and cheese, corned beef and cabbage with beer, or shrimp jambalaya.
While there are a lot of options out there, we're particularly fond of the Hamilton Beach "Set 'n Forget" 6-Quart Programmable Slow Cooker. It's stainless steel, dishwasher safe (won't have to wash it by hand), comes with a digital readout for easy programming, and is a full 6-quarts, which will enable you to do a lot more than those emasculating 3-quart cookers for single people. It also features an automatic keep warm feature, which means if you're running a few hours late from work, you won't have to come home to either a burnt (or cold) dinner.
Eric has written for over a decade. Then one day he created Urbasm.com, a site for every guy.