While the technology of today may be functionally superior to anything we've ever experienced; there is something about the retro designs of yesterday that offered a warm inviting touch. You see, today's machines are all about ergonomics, compact size, and functionality. There is not a whole lot of attention to pizzazz,  flash, and beauty. If you're moved by the warm, woody, and chrome highlights of yesteryear; there are several steampunk/retro-tech products available, that offer all the power and capability, with a touch of nostalgic class, and unique functionality.
These are a few of our favorites:
This V-Luxe stand will turn your iPad into a 1950s television, offering three unique finishes (walnut, cherry, or African mahogany). This stand also includes cable access, and a hidden cabinet for your own low-profile audio speakers.
Along the lines of the V-Luxe, is this PC designed by Philco Predicta. This retro look is a fashion statement for your desk. However, don't worry about functionality, as it is also a state-of-the-art Windows 7 machine. They spared no expense!
This is an iPod dock you won't find in many bachelor pads. However, that is not because it isn't cool. Many of these cabinets use Bluetooth, so your device simply slides in, and you're ready to play. Here is an Arcadie iPhone/iPod arcade cabinet
for less than $20.
There are some nifty keyboards available for your ipad or smartphone, which makes typing a lot easier than a touchscreen. However, if you'd rather do your typing in style, while getting some interesting compliments from onlookers, this Typescreen is a what we'd call a jive daddy cat.
If you already have an old manual typewriter at your disposal, you can convert it for use with your modern technology using one of these usb conversion kits.
Retro Home Telephone with Charger for iPhone/iPod

This iPhone/iPod dock is handcrafted with real wood and brushed copper parts. It is also compatible with any smartphone or computer with a 3.5mm jack.
If you own an iPhone, a docking station is almost mandatory. However, why settle for a dime store copy that every Joe has. This iphone dock would be a nice touch for any bad-ass bachelor pad.
This Retro Cell Phone Handset
will transform your mobile device into a traditional phone handset. Why? It might be a little more comfortable, it could keep you from getting brain cancer… and well, it's just funky cool.
Gramophone iPod Docking Station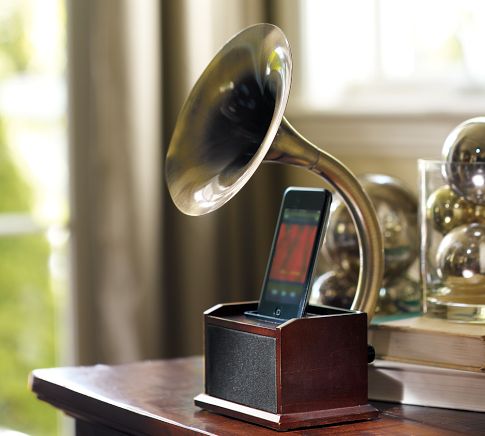 This retro docking station for the iPod features a flared brass horn, maple veneer finish, and comes with five universal docks. A Pyle vintage phonograph docking station
is not a bad way to go, either.
The original NES controller is now available for all your USB accepting devices. Yeah, it's Mario time!
Tired of your thin flat screen yet? This retro classic television is not only much more interesting to look at while it is not on, it offers a 14-inch digital display, digital tuner, and the ability to turn the picture into back & white just for the fun of it.
These retro speakers were designed and created by Polish artist, Conscious Flesh. This retro art not only looks unique, but its functionality is also quite distinctive, as it creates sound by heating the air with a high-frequency electric discharge, which causes it to expand and produce sound pressure waves.
This retro laptop by Datamancer is part of the Steampunk movement. It features a brass keyboard, claw legs, and the internals of an HP ZT1000. We want one!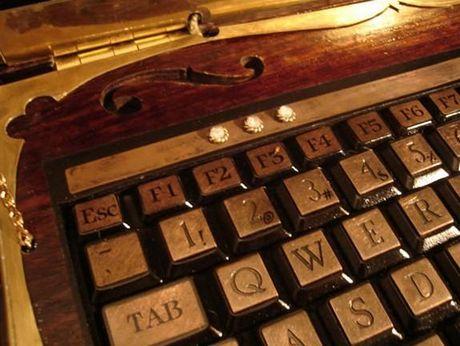 And perhaps the most awesome retro-tech setup of all…
Eric has written for over a decade. Then one day he created Urbasm.com, a site for every guy.