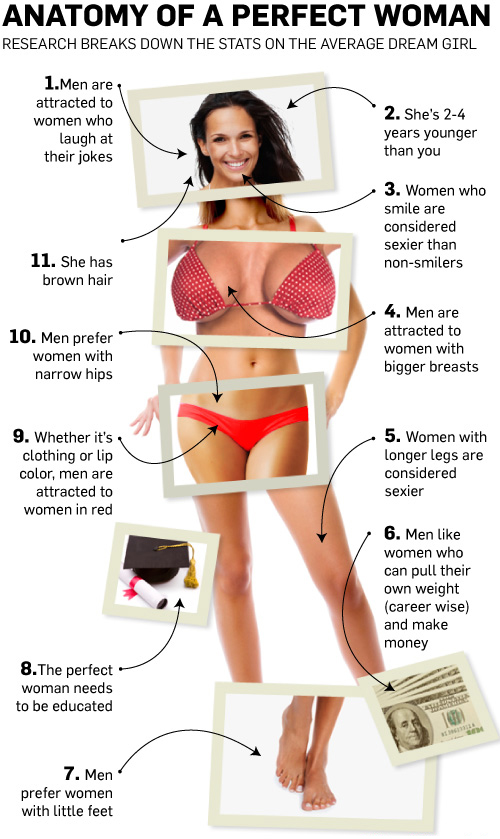 According to men, the perfect woman should have shimmering Twilight vampire skin, and the heaving breasts of Jessica Rabbit. She would have the electric blue mane of Marge Simpson, asymmetrical head of Sinead O'Connor, pull-string voice box of "Woody" from Toy Story, and the bedroom acrobatics of Lara Croft.
Researchers have stretched their craniums trying to decipher the equation to the perfect woman, and in 2009, Stephen Link and Kang Lee unveiled their "golden ratio." The optimum female face, is one where the distance between her eyes and mouth are no more than 36 percent of her total face length, and the width between her eyes are 46 percent of the entire width of her head.
To make this equation even simpler (scientists always make things so complex), the basic rule is that the most beautiful women are… average! In other words, women are attractive when their features rest somewhere between the excess of Donatella Versace, and the minimization of say, Beaker, from the Muppet's. However, this isn't the first time that symmetry has been described as an idealistic beauty.
The Roman architect, Vitruvius, described the ideal body as one that fit within a circle and square, with the mid-point being the navel. Now recently, a doctor by the name of Paul Banwell, has taken this research further, analyzing the bust of 100 topless models from the British tabloid, The Sun, and has come up with the mathematical equivalent to the perfect breasts, which goes a little something like this:
A woman's breast should be shaped like a tear drop, with the nipple located toward the center, but favoring the lower portion by a ratio of 55 to 45. It should also be standing at attention at approximately a 20 degree angle.
Eric has written for over a decade. Then one day he created Urbasm.com, a site for every guy.