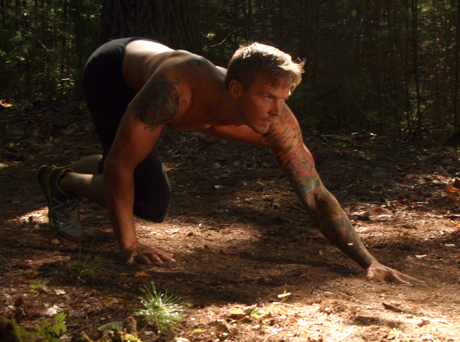 Before bedtime, a lot of guys give their body the customary 10 push-ups,  25 crunches, and then a few body weight lunges to try to keep their Popeye legs at bay. This daily routine may keep your heart from exploding on the subway after eating six chili cheese dogs. However, if you are looking for a chiseled body to flaunt between the sheets, we have an ever better home workout for you.
It's called the Animal Flow for Equinox, and was created by Mike Fitch. The idea of this routine is to ditch the  philosophy that you need to lift excess weights to become stronger and more agile. Instead, Fitch's program concentrates on lifting what nature intended… your own body. Through a series of innate movements designed to mimic chasing, climbing, stalking, and leaping, the body develops a well-rounded strength and power that would be difficult to achieve with just a machine or a dumbbell.
The next time you drop to the floor to do your daily exercise ritual, Fitch wants you to think about something. As men age, it is not always the size of our muscles that is what we truly miss. All you need to do is go to a hardcore gym to see that guys in their 50s and 60s can still be pretty damn big. What disappoints the average guy about the aging process, is the inability to "move" as he once did in his youth.
Consider that your invitation to become reacquainted with your body, and all the wonderful spins, flips, and handstands you could be doing at this same time next year.
Here's some inspiration for you.
Take it away Fitch:

Eric has written for over a decade. Then one day he created Urbasm.com, a site for every guy.