We love getting the opportunity to review new watch brands… but what we love even more is the opportunity to spend a few weeks with one of our old standbys, like this Automatic Black Dial by Bulova. If you have never had the opportunity to own a Bulova, we would consider these to have some of the best-crafted cases and Japanese movements for the money.
Kind of like Goldilocks and the three bears, these watches tend not to be too light, too heavy, under featured or overly bling'ed. In other words, Bulova rides the line of just right in everything from its materials, craftsmanship and price point. Take this 21-jewel Automatic we received from WatchCo.com earlier this summer.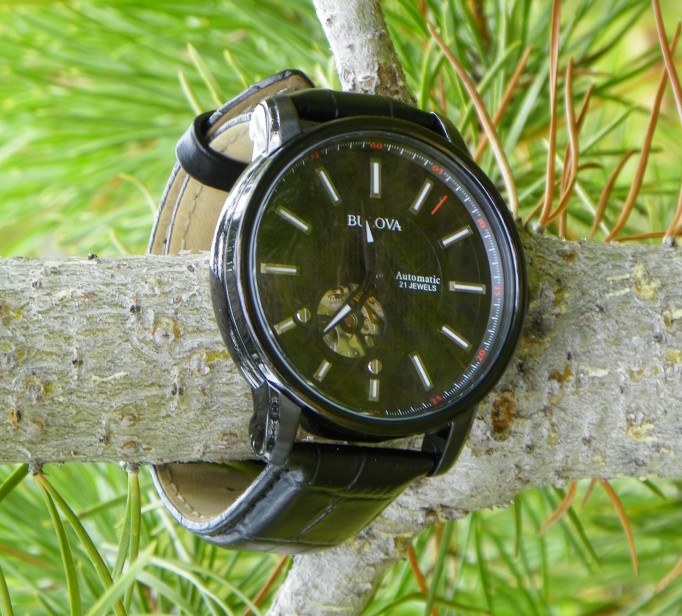 It features a chunky 13.5mm thickness and noticeable 45mm stainless steel case. It has a simple, classic face that lends itself well as a stylish dress watch. However, its leather band helps it bend the rules, making it also a sharp watch to wear around on the weekends with just a pair of jeans. It also hosts some pretty nice features for its price point, which includes its 21-jewel automatic movement, domed mineral crystal, luminous hands/markers and a carbon fiber dial.
We found this watch to be just as accurate as Bulova boasts… keeping up with a few of our higher priced brands without losing even a fraction of a second over the 3 months we tested it. If we had to make a complaint, it would be that the self-winding features runs itself down a little quicker than some, so if you don't want to be setting the time as an occasional wearer, we'd highly suggest matching this with a good watch winder.
With that said, the winding mechanism is well balanced and not finicky at all. Some watches under $500 can have either an overly heavy movement that requires a lot of action to keep wound or a light one that is too fragile for its own good. Just the slightest wrist movements gets this watch going, so even if you're not an extremely active guy you should have no problem keeping accurate time when used as a daily watch.
I particularly like the open bezel design on this, which brings more attention to the dial, which is really the most important feature on a dress watch like this. Whether you have a large or small wrist, its open face feels welcome on your arm without it seeming either too overbearing or ill-equipped. It is super easy to read at a glance with its large face, and it is also easy to read at odd angles. The curved mineral crystal offers up a slight glare on bright cloudy days, but at this price point ($450), we can live with that tiny amount of inconvenience.
This is a stylish play on a blackout watch, offering up just enough chrome, red and white accents to keep it from colliding with the majority of your formal wear. And speaking of colliding, we also like Bulova's choice of branding, leaving their mark on only the front dial, within the clear rear window and casually on the band. There is no mistaking this as an original, but Bulova also doesn't feel the need to throw it in your (and everybody else's) face.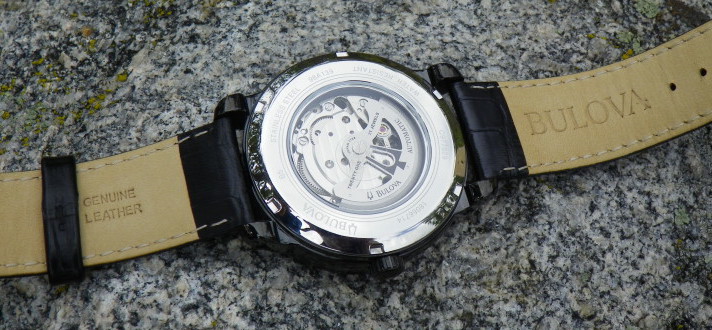 Yeah, we like this watch a lot. In fact, we like it so much we will be offering it up in an upcoming giveaway, so stay tuned for that.
Eric has written for over a decade. Then one day he created Urbasm.com, a site for every guy.