Leave it to a couple of Rugby heavyweights, like Aedelhard and Canterbury to pull together an apparel collection that is as much fashion as it is performance. The design collaboration between the two designers has been a long-awaited project that began in the form of a humble photo of Prince Harry when he was a youngster wearing a (now) vintage Canterbury All blacks jersey.
And that image has literally exploded into everyday wear with a salute to its roots, including the "Rake" jersey (above) that crosses the line between the playing field and urban playground quite well we think. And it doesn't get any more traditional than this yellow navy stripe jersey nestled underneath a performance blazer (below). And that reminds us to discuss what makes this new performance line so 'performance' oriented?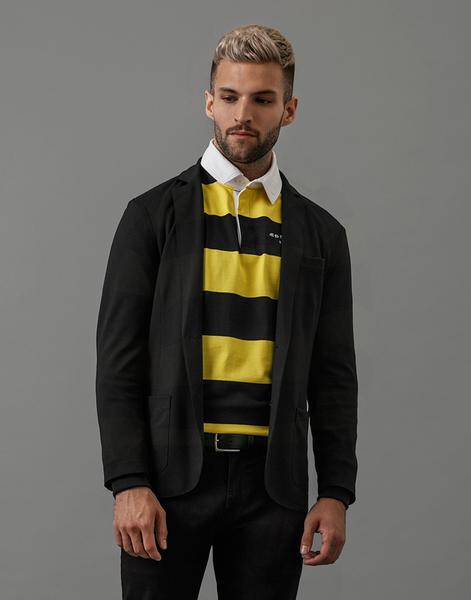 Traditionally, Canterbury has stitched their rugby uniforms together using an on-pitch technology that uses body mapping to ensure proper fit for professional team members. This means, one, this limited edition collection is specifically designed for the athletic man who may have a tough time finding clothes in an 'average' world. Two, this collection uses the same rigorous standards as a traditional rugby uniform, which is another way of saying these fashion statements should be in your closet a very long time.
It is a good thing that fashion like this will never expire, considering they are already vintage and look just as good today as they did when your grandfather was wearing them. Check out this new collection on their website, Aedelhard.com.
I'm a digital nomad and story teller that writes for Urbasm and a few other websites on men's interests, style, relationships and whatever tickles my fancy. In my spare time I like to play the field in search of my prince, travel, and consider myself an artisan of sarcasm at times.