First class is overrated for most airlines. The pillows don't fluff, the massagers don't knead, and the drinks are watered down. There are just some things in life that a man has to do himself – if he wants them to be done right.
Case in point, the carry-on cocktail. These TSA friendly kits put all the essentials into one. All you need to do once you hit 30,000 feet is tap the shoulder of the flight attendant, ask politely for some alcohol, crack open your kit, and it's 5 o'clock for the next two drinks. So on your next flight to Vegas, why not be the host of your own welcome party.
Here are a couple options we recommend:
Carry-On Cocktail Kit
Eric Prum and Josh Williams have built a small empire of these cocktail kits starting at around $13. They come in TSA-friendly tin, complete with spoon, recipe card, and all the essential ingredients (sans the alcohol, of course). You can choose from an Old Fashioned, Moscow Mule, Gin & Tonic, Bloody Mary, and more.
Get more info.
Dirty Martini Kit
We like our airline trays clean, but our Martini's as dirty as they come. This kit by Cocktails 2 Go offers up the oange bitters, brine, olives, pick, and enough leftover to do it all over again for a total of two drinks.
Get more info.
Bloody Mary Seasoning Packs
The Bloody Mary is a staple for traveling. And if you're on the go more often than you're not, a 16-pack of Chet's Bloody Mary Seasoning packs makes a lot more sense than a suitcase of cocktail tins. Not too spicy, just the right amount of sweetness, and surprisingly 'full-bodied' for coming out of a spice packet.
Get more info.
Cocktail Bitters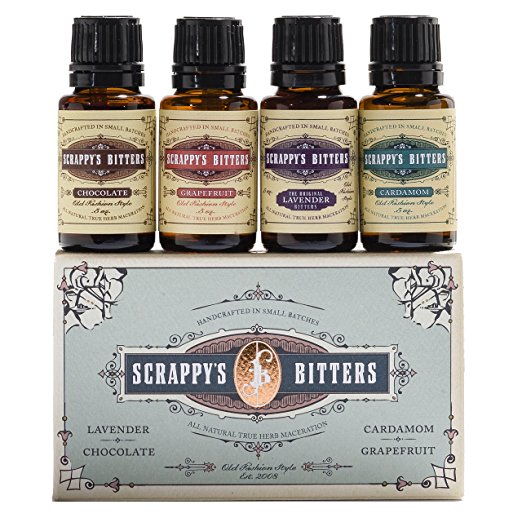 The cocktail bitter can be a man's best friend if you know how to use it right. Not only will it give your favorite cocktails the proper kick, they can also help soothe an uneasy stomach on a bumpy ride. But there are so many great bitters to choose from, which is why we like to come prepared with a selection of at least 4 exotic options, including lavender, grapefruit, cardamom, and chocolate.
Get more info.
Eric has written for over a decade. Then one day he created Urbasm.com, a site for every guy.