A Review of an Uncelebrated, Odd, But Worthy Anthology
Urb Rating: 7 out of 10 stars
Movie 43 is a film comprised of many interconnected short sketches. Each of these segments was helmed by different directors. Peter Farrelly directed three of these. They are some of the better segments. Some of the acting talents appearing in these, to name a few are Hugh Jackman, Gerard Butler, Kate Winslett, Seth MacFarlane, Richard Gere, Kristen Bell, and Halle Berry. Many more names crop up through the production and it is fun to see who had the nerve to be in such a strange collection.
It begins with a struggling producer pitching ideas to a studio executive. The producer, played by Dennis Quaid, suggests ideas that he has come up with for movies to make while Greg Kinnear, the executive, listens to each and states his opinion. Each suggestion comes alive in the form of a sketch with well-known actors populating the scenes. Each one of these sketches become more off the wall as they progress and as Dennis Quaid's character becomes more desperate to sell a movie. Some of these sketches are touching while others are outrageous and raunchy. Then there are a few that are a bit off target.
While most of the segments in this anthology deal with romance and dating, some have revenge as a theme. Most of these sketches are silly by content and should have one laughing if one is not afraid to venture down to the sewer for some of these jokes and sight gags. Toilet humor can be good every now and then. Especially, if it is presented in a unique and interesting way. The way the humor was presented was very uncommon. It was displayed in such a casual manner as if this stuff happens all of the time.
One of the mild scenes and even one of the more touching ones – was called "Veronica." Emma Stone and Kieran Culkin play the main characters. It was one of the shorter segments where Kieran is a store checkout clerk and Emma Stone is Veronica a sort of tough girl. She buys something and has Kieran's character check her out. They get into this heated exchange where they are insulting each other. It goes on for several minutes getting heavier and the tension getting thicker and the passion growing. One can see that they really know each other and have a history. By the end, one is left wondering what just happened as Veronica asks when he gets off work. She leaves as if nothing happened. Then, the shoppers, who have overheard the exchange, volunteer to finish his shift and encourage him to chase after her and stoke the love they have for each other.
This is just a more "normal" example of the content one can expect in this movie. One of the short films that just did not hit the mark was "Machine Kids." It is a short film set up in a Public Service advertisement format. The Narrator asks the users of such equipment, like copiers and ATM's, to treat them with care and respect. The Narrator makes one aware that there are kids inside these machines working hard and trying to earn a living like all the rest of us. It was a somber tone and quite a contrast to the zany fun the rest of the ideas were. It was strange and off the wall, but it just did not fit in this collection of delightful wackiness.
With a total running time of ninety-four minutes for the feature, divided into twelve short clips of varying lengths, it is a roller-coaster ride of absurd fun for adults to enjoy. While this film did not have a good run at the box office and was slammed by critics, it was actually insanely funny in most of the parts. Movie 43 earned a slightly above average rating because it did not quite hold it together. Caution is warranted because it is for adults: adults who are not sensitive to most things insulting and to bathroom humor. It is full of these things.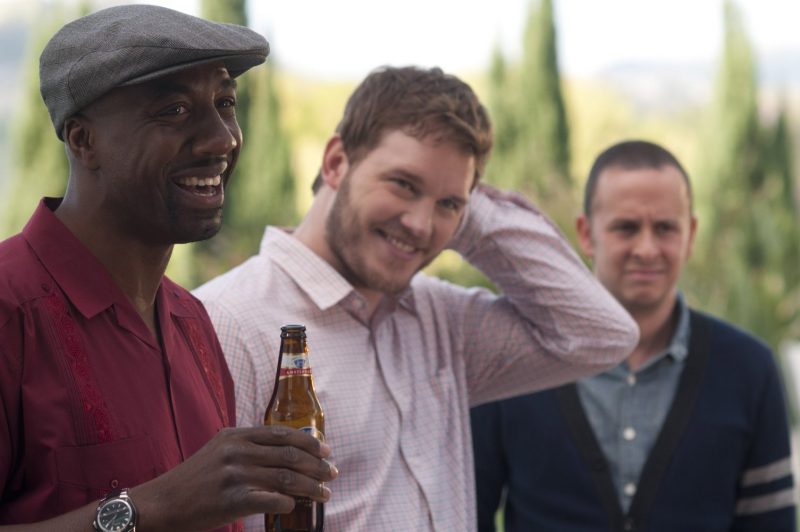 With an anthology film like Movie 43 having such topics like, leprechauns and superheroes to a segment involving a new and very interesting mp3 player that has the potential to mutilate body parts, this movie has just about everything a comedy could ask for – or want. This film was a great experience. The laughs rolled out so fast and so frequent it was therapeutic. The elements of humor and surprise are some of the few merits that keep Movie 43 afloat. In fact, one could watch this movie forty-three more times and probably still get the same amount of fun out of it. Better yet, invite some friends over, break out the beer and press play. There is an instant party waiting.
Erich is the author of the thriller, Is Love Everlasting? He has a BA in Communications from Colorado State University. He lives in Arvada, Colorado with his cat, who always tries to help him with his writing. He enjoys watching movies, writing poetry, or reading a great book. Follow Erich on Facebook at http://www.facebook.com/erichswritingspot. Get his book at Smashwords: http://www.smashwords.com/books/view/410406