We have exhausted ourselves in past articles, trying to find the simplest formula to becoming a better man. What we know so far is that it is likely a combination of knowing who you are, listening and learning from others, substituting good habits for bad, and taking action rather than getting stuck in the planning phase. And while nothing worthwhile is ever simple – Men's Health has put together a pretty basic formula to improving yourself and they've served it up in a quarterly box for just $1 a day.
MH First Quarter Box 2017
Men's Health has unleashed their first quarter box for 2017 – and while we're not normally the kind to gloat, we thought we'd share some of the manly stuff you could be missing out on. This quarter MH slathered it heavy with fashion, fitness, and grooming, which has us dreaming of those warm Spring days just around the corner. We're talking DIBI shoe laces and a leather DIBI lapel pin. That was followed up by some dress socks and a pocket square by MOUSTARD and a pair of flashy performance socks by STANCE.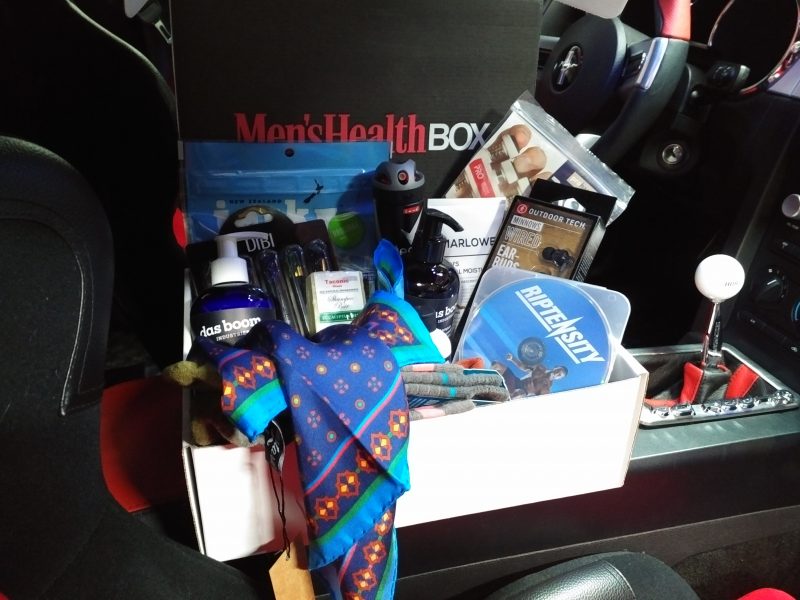 On the grooming front, you get a full can of deodorant by DEGREE, shaving soap by TACONIC, face moisturizer by MARLOWE, and shampoo and conditioner by DAS BOOM. MH is also offering a sneak peak to their new "Riptensity" training system, offering up a full DVD workout that normally retails for $70. They also fit in a PROHANDS hand exerciser to improve your grip strength for golf, tennis, fishing, or just dishing out a legendary handshake. For the tech junky is the new wired ear buds by OUTDOOR TECH, and you also get a DETOUR bar and bag of NEW ZEALAND beef jerky to round out the box.
Okay, gentlemen, let's break this down: You get four MH boxes a year (valued at $150+) for $89.99 each, and you can use code MHBOXMVP20 to receive 20% off your first box!
And MH also has a "Best of Grooming" Box filled with $200 of MH's Grooming Award Winners from 2016, for just $50 (limited time).
We highly recommend this grooming box. Just this one box alone will set you on the path to becoming a better-kept gentleman.
And if your curious to see what you missed from MH's fourth quarter box 2016, you can check it out here.
Urbasm occasionally receives vendor/brand sponsorship's for mentioning their products and services.
I'm a digital nomad and story teller that writes for Urbasm and a few other websites on men's interests, style, relationships and whatever tickles my fancy. In my spare time I like to play the field in search of my prince, travel, and consider myself an artisan of sarcasm at times.