The typical man decor is simple, practical and useful. But if it was easy to also find something unique, and maybe even a little edgy – most men would rather own that. Well, here are three options we currently have on our wishlists and we promise no girl has had any influence over our decision.
The Man Table
For the man who desires to create the illusion of contemporary decor, while also having a cold one within his reach – we give you the Man Table. These offer the look of fine Amish-made wooden furniture with the addition of a high-tech mini-fridge. Now that's classy and cool (literally).
Marshall Amp Fridge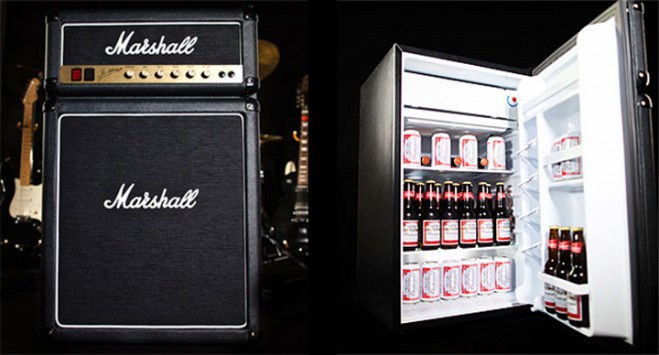 For the guy looking to amplify the energy in his lounge by more than one notch, we recommend this Marshall amp fridge. It is guaranteed to kick start the likes of any party, and it can do it without unleashing a single sound, other than the swish of a beer opening.
Industrial Brewery Lamp
If you're a man looking to spruce up your lounge with something a little more useful, like more light. May we suggest a dash of old-world mechanical ingenuity with these Industrial Brewery Lamps. Great ideas may come in the form of a bulb, but we've heard the best ones come from a bottle.
Single and sexy. Hello ladies..