The rules of flirting have changed with the advent of mobile technology. Texts, apps, and video conversations are now used in this cat and mouse game. The rules are nuanced and subtle, and high-end smartphones, tablets, and laptops are necessary tools. That being said, here are some tools and tips for mobile flirting:
Texting
If the girl you've decided to chase tells you to text her, you've been handed a line into her life. The pros of flirting over text is also its con: you don't know exactly what she wants and she doesn't know exactly what you want either. The mystery is part of the appeal, so don't give too much away in your texts.
Use her name throughout your conversation. This shows you are sincere and that your mind is on her specifically, not just any person behind a smartphone. Use emojis, like smiley faces and winks, to keep the tone light and playful. As you start texting more, role-play through some hypothetical situations, such as what your perfect first date is or what you'd be doing if you were together, for a fun way to learn about each other.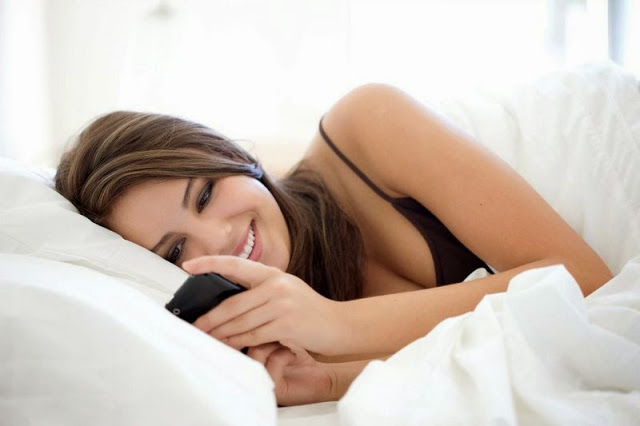 Apps
Apps like Tinder and OkCupid make meeting people easier than ever before. They give you a starting platform when it comes to mobile flirting, especially since users are paired by common interests and relationship goals. These can be helpful if you're too shy to approach a girl at a bar or simply want to meet new people.
Some apps have made mobile flirting a more visual experience. For example, Snapchat sends images that only exist for a short time before they are deleted. This can be used to take silly or embarrassing pictures that show a more vulnerable side of you than what you usually bare. Instagram's direct option lets you send your flirt video messages or pictures only she can see. Pictures can be a great way to get to know your flirt or to show that you're thinking about her. Send a picture to say good morning or goodnight, a screenshot of something silly you saw online or a restaurant you want to go to.
Video Flirting
Meet people with apps and flirt casually with texts, but use video for a more sincere experience with your date. This is a good option if you're in a long-distance relationship or if you find body language a desirable aspect of the conversation. If you have a smartphone like the LG G5, you can use the video calling feature to talk face to face.
Skype is a reliable alternative if your phone doesn't have a native video calling feature. While the desktop version of Skype has a plethora of options, the iOS version is slimmed down, which can feel constricting. However, this version of Skype does regulate itself so it doesn't use up serious bandwidth. If you both are Apple fanatics, you can use FaceTime to call each other from your phone or computer.
This is a post by Alex Clark-McGlenn, who is currently taking his MFA in creative writing from the Northwest Institute of Literary Arts. He has been published in eFiction Magazine, Inkwell at Evergreen, Slightly West Literary Magazine, and appeared in Smokebox Literary Magazine July, 2014. He currently lives in Bellingham, Washington.