The Chelsea boot has a rich heritage in history, beginning in the mid 1800s. They've made the appearance on many prominent men and women from Queen Victoria and the Beatles to the cast of the original Star Wars trilogy.
And after all this time, the Chelsea boot is still a very classy (yet laid back), all-weather gentleman's fashion statement – if done right, of course. In fact, the only pair we'd recommend for your closet is the ones made with the same simplicity, quality and attention to detail as the originals. But where can you find such a boot?
Well, we were recently reminded of one place – Jack Erwin.
The Ellis Chelsea Boot by Jack Erwin is handcrafted with full-grain leather or suede. They have rounded toes and durable elastic sides sewn into the ankle, just like they are supposed to. They have a fairly low profile, but also feature a stacked (reinforced) heel that offers a little extra height, but not too much.
These Jack Erwin Chelsea boots offer smooth leather-lined interiors from top to bottom, including a leather heel back and insole with extra padding thrown in for every day comfort. The stitching is minimal, giving their overall appearance a simple clean look, and also an incredibly smooth feel to your feet.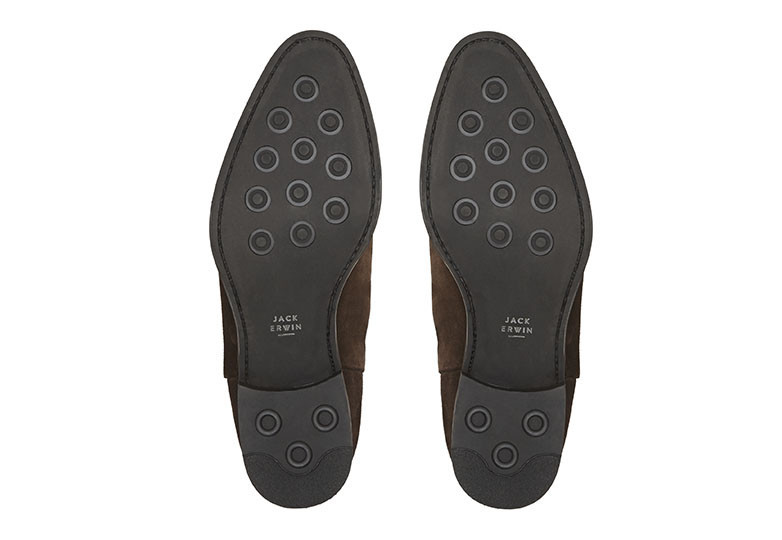 The soles may not be the traditional leather you'd have found 100 years ago. However, from this trade-off you get a hand-stitched rubber outsole that offers greater durability, better all-weather traction, and a modern touch to a boot that is classic in just about every other way.
The boot straps on these Chelsea's are generous, making them easy to grab when your slipping in and out of them. I can't tell you how many straps I've used that seemed like they were designed for raccoon hands… but these are unmistakably made for a man. They go on easy, fit as tight as you'd want (the sizing does appear to be spot on, assuming you wear a standard D width), and they're easy to match up to an outfit, because they go with darn near everything.
A Few Tips for Success
Chelsea boots were designed to be easy to slip on and off, and for this very reason you may find yourself reaching for them quite often. Probably more than your long top and laced dress variations. But just go with your gut, as these will match up well with everything from your favorite pair of denim jeans to your Monday morning suit and tie.
There are a lot of 'variations' of Chelsea boots to choose from, including a lot of color options. We'd recommend getting a traditional smooth black pair first, like these full-grain leather Ellis boots (pictured above), because you will most likely get the most use out of them. And if you decide you like them, you can then get a little crazy with the different styles and colors available.
A good pair of boots should theoretically take you from morning to night, workshop to office and office to pub without a single shoe change. And this is why 'good enough' is not always – good enough – when you're talking about a traditional pair of Chelsea's. We've been fans of these boots for a long time, and we couldn't be happier to know that Jack Erwin is handcrafting these in Spain just how they should.
Get more info here.
Urbasm occasionally receives vendor/brand sponsorship's for mentioning their products and services.
Eric has written for over a decade. Then one day he created Urbasm.com, a site for every guy.