There are few things as manly, simple and delicious as a grilled cheese sandwich. But as good as a slice of cheese grilled between two buttery slices of bread is… we think we can top that. In fact, with the help of our friends at Emmi – we know we can.
You know the easiest way to shake up your grilled favorites? Top it with a slab of cheese. No, not a 'wrapped slice,' but a 'slab' that has been carved off the mothership. This is what can turn a plain burger or hot dog into something a little more zingy, tangy and darn right sexy. And speaking of sexy, we had the opportunity this summer to sample a few of the cave-aged cheeses from Emmi… and oh my, what a difference a high-quality cheese can have on your grilling experience. However, there are a couple of rules to make sure you're getting the most out of any cheese.
Don't Play it Safe
You know what makes a memorable grilled cheese experience? A cheese that packs a lot of flavor into every slice. While a mild cheese has its place in the kitchen, it really can't hold its own over the open flame of a grilled sausage or buffalo quarter pounder. A strong cheese offers a lot of bang for your buck, which means it will pack a lot of flavor into every bite. We recommend Emmi's Kaltbach Emmentaler Swiss Cheese (pic above) for your burgers and sausages. It is aged in Kaltbach caves for nine months, which gives it a very unique nutty and tangy flavor.
Most grilled cheese experts consider a quality Le Gruyere the quickest way to turn your childhood favorite into an adult's playground of tantilizing flavors. And to make a standard grilled cheese into a man-masterpiece, use a slice of Emmi's Kaltbach Le Gruyere AOP. It offers a complex and full flavor which is also smooth, satisfying and intoxicating to every one of your senses. But isn't that cheese fairly rich, you ask? It can be, but a thin slice of tomato will tone it down while also adding a bit of zest. If you really want your meal to go "Ka-pow," we'd recommend adding some Applewood bacon on top of your choice of meat. Yeah, that is what we consider to be the cure for the common 'salty-sweet' tooth.
Use the Right Cheese
The key to grilling cheese on any barbecue is to use the right stuff. We're talking about a cheese that is hard enough to survive the temperatures of your grill without turning into clam chowder and falling into the dark abyss of the coals. We sampled both the Emmi Emmantaler and Le Gruyere Swiss on the grill, and the results were very satisfying. Even after basking under a 400 degree grill for 15 minutes, it barely broke a sweat. What you want out of a grilling cheese is one that will brown and get a little crunchy, without losing its composure like a snowman on the equator. See the above photo if you have any questions at all.
Side Salad – Because Every Man Needs a Timeout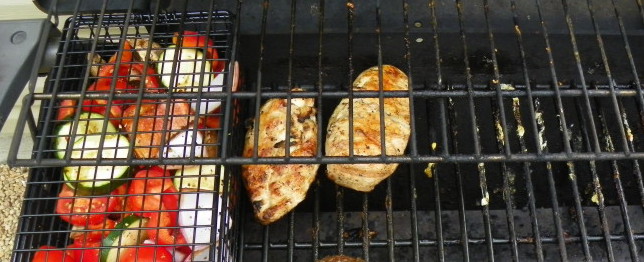 With all that rich fatty goodness, your taste buds may end up throwing out a white flag too early in the grilling game. What we'd recommend is to whip up a side salad with a vinaigrette dressing and throw it on the grill until it is just flame-kissed. This will add a little color to the menu, give your buds a break and also add a dose of vitamins to keep you going through the night.
We thank Emmi for introducing us to some of the best cheese we have ever grilled with. Stay tuned as we are going to show you how to cook up a hearty 'Man-Mac and Cheese' with crab, Applewood bacon, and only one cast iron pot to wash up afterward.
Eric has written for over a decade. Then one day he created Urbasm.com, a site for every guy.