Love is a strong word for any man. In other words, it is something that is not to be used lightly.
And when it comes to diver watches, there are only a handful that truly deserve the honor of being a part of your daily love affair with stainless steel and sapphire crystal… including these three pinnacles of durability and design:
Oris Men's Analog Automatic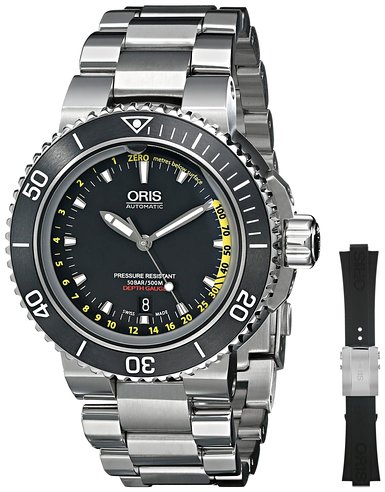 Stainless on top of stainless heads up this classic diver watch by Oris. It comes with a uni-directional bezel, black ceramic top and is capable of withstanding depths of up to 1640 feet. This classic watch is self-winding, self explanatory (easy to operate) and possibly just a little self indulgent (but you're worth it).
Get yours here.
TAG Heuer Men's Aquaracer
The TAG Heuer Aquaracer is a part-time scuba watch and full-time style accentuation to your character. It features the classic stick and dot markers, safety closure, Swiss-automatic movement and a scratch-resistant sapphire dial window. The Omega Seamaster is a difficult watch to compete with, but this one comes darn close.
Get yours here
.
Omega Men's Seamaster Analog Automatic
It would be impossible to name off three of our all-time favorite diver watches, without having at least one variation of the Seamaster by Omega. This watch is… and has always been a masterpiece of durability, practicality, quality and class. If you've been on the fence as to which diver watch you should get, we'd confidently push you in this direction, as quite frankly this will set the bar for all your future watch purchases. Yeah, it's that good.
Get yours here
.
About
Loves bourbon, travel, and spending time with family (in that order).