In the ID ("Ideas and Development") sector of Cartier watches, they have been working to 'rethink' the casual watch and how it might be restructured to better serve their clientèle in the near and distant future. In particular, they are looking at the possibility of a watch design which requires no oil or maintenance over the long term, and we are talking about the 'very' long term. A mechanical watch that would be considered the first 'high efficiency' design of the millennium.
The Cartier ID One was a concept introduced with "DRIE" (Deep Reactive Ion Etching), which allowed the watch to be manufactured with zero adjustment during assembly. Now let your imaginations go wild, and this would also suggest the ID One would be somewhat impervious to temperature fluctuations, magnetic fields and shock. Well, as we have learned from concept cars in the past, usually the second try is just a little bit better than the first, and this indeed appears to be the case with the ID Two by Cartier.
See for yourself: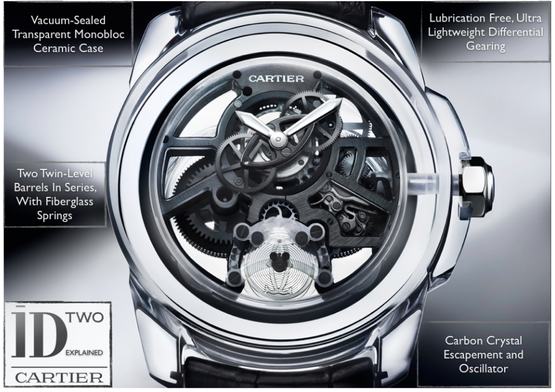 About
Loves bourbon, travel, and spending time with family (in that order).