With the Walking Dead television series in full swing on AMC and movies like Resident Evil
 and World War Z
so popular in the theaters, the zombie movement has never been so grand. Everywhere one looks zombies seem to be coming out of the woodwork. They are overrunning mainstream culture and consuming everything in their path. Though zombies have been around for years in entertainment, since about 1968 with George A. Romero's Night of the Living Dead, that theme has usually been relegated to low budget movies, video games, and throw-away episodes of television series. Those familiar horrid "holiday" episodes that are made to cater to and exploit the Halloween season are frightfully dull in most instances.
It is only in the last five years or so, that this has become a cultural phenomenon. Now, one can see many more forms of entertainment as well as merchandise featuring this macabre theme in some way, shape, or form.
There is not one piece of merchandise that has not been touched by the cold hand of the undead. This is great news for those zomiephiles wanting to celebrate their favorite sub-culture of the grim and gruesome.
Zombie Video Games
With movies like the Resident Evil series attaching more and more episodes, and Zombieland as both a movie and a series, patrons can scare up a grody good time. For a more consuming experience, people can play video games. With titles such as Dead Island
and Lollipop Chainsaw
, for the Playstation 3 and Xbox 360 consoles. They can live the adventure of surviving and killing hordes of the walking dead. Some of these titles have a bit of a lighter take on this grisly theme. Lollipop Chainsaw is one of those. The player is a high school cheerleader with a customized, pink chainsaw running around hacking up zombies left and right. All the while she carries her dead boyfriend's head tied to her belt in remembrance of what they took from her. It is a bit gruesome, but silly at the same time.
For the more distinguished and conservative of gamers there is always the classic Resident Evil
titles of games. These titles have great playability and can be relied upon to give the player a good story and good graphics without having to take too much of a risk on the ever dreaded "bad game."
Zombie "Old Fashioned" Fun
If you have invited your zombie stomping buddies over for some fun, there are a few choice items to entertain. Y'all can cozy up around the boob tube and watch The Walking Dead
, or one can begin with a traditional card game with the Bicycle Zombies Playing Cards
. This deck of cards is a standard sized deck of 52 playing cards splashed with zombie art on the backs with each card containing a unique tip on how to survive a zombie attack. Because these are made by Bicycle, they have a high quality finish and will last through many rounds of games. These are perfect for starting off a night of poker, blackjack, or whatever your imagination can dredge up from the dark abyss.
A quick and easy game that can be picked up on the run is SJG Zombie Dice
. This is a dice game that puts one in the role of the zombie. The players are all zombies and the object is to eat as many brains as one can before being decommissioned. The player rolls the dice to see how many brains come up. The more brains, the more points. Some sides of the dice do have shotgun blasts. These are bad. Get three of them and your turn is over and that player must pass the dice and forfeit the brains they collected on that turn. Thus losing points. It is a quickly moving game full of risks and fun designed for the whole family of zombie lovers. This item is about $11 and is for two or more players. This game is very portable and is ideal for camping and traveling. This game should not be passed up.
Anyone familiar with Cribbage will love this next game. It is Zombie Cribbage: The Classic Parlor Game that Just Won't Die
by Forrest-Pruzan Creative. This is the classic game with a zombie twist. The peg board is set up so that you are a zombie marching down a cobblestone walkway to the finish line. The pegs are molded like zombie characters and it comes with a custom illustrated zombie deck of cards. Everything packs up neatly in a travel-sized package for those times when you happen to be fleeing from the hungry hoard.
Zombie Munchies & Drink
Speaking of hungry hoards, what about you and your guests? There are plenty of delectable morsels to be served. Anyone who wants to find out what the undead taste like there are some options. Tasty treats like Zombie Jerky Teriyaki
by Harcos Labs and Dried Zombie Skin
can be served at room temperature. The jerky is a slimy, green beef jerky made from Zombie flesh. Or so they say. They are packaged in specimen bags for your convenience.
The Dried Zombie Skin
 is slightly crunchy with a light flakey texture. It is vegan, all natural and gluten free! Actually, it is basically dressed up seaweed. But, for a party–who would know?
For venturesome guests who like a bit more of a crunch, there is Crusty Zombie Toenails
to satisfy them. These are made by Animewild and are a crunchy delight. They have a dried brittle bone texture that is hard to beat. Although, to be frank they are really sesame sticks shaped like toenails, but where is the fun in that if they are presented without the gruesome name?
With all of this munching, going on, your guests will need to wash these treats down. Harcos Labs has the answer to that. They have Zombie Blood Energy Potion Pack
. These drinks come in a convenient package similar to hospital blood bags and have a nourishing, green liquid that has a nice fruity taste. Who knew zombies had such sweet blood coursing through their veins! It is packed with proteins, iron and various electrolites perfect for quenching the thirst and keeping up one's energy fighting off the re-animated dead.
All of these snack items can be found on Amazon and are reasonably priced for what they are. Though, at $9 per 1.3 ounce package, the jerky is the most expensive item when comparing the size per cost. However, when it comes to themed parties, the amount of fun derived should usually off-set the cost.
Zombie Survival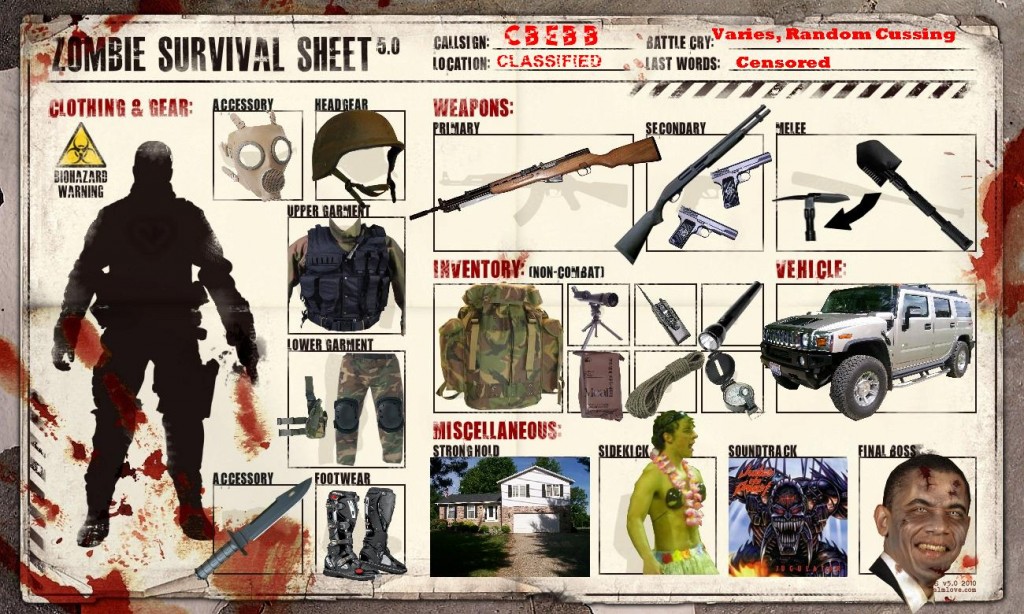 Editors Note: If you're serious about survival, you are also going to need a plan. Might we recommend something simple (and too the point), like the above: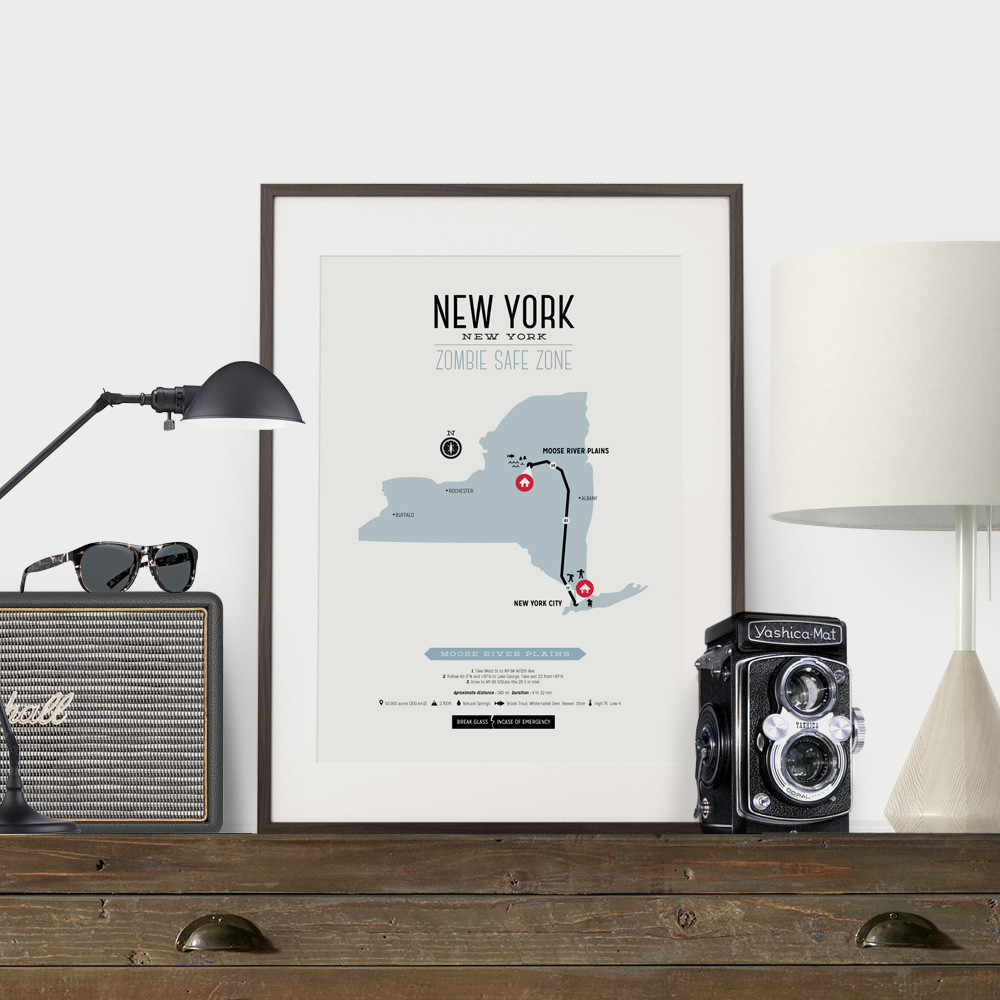 A map of the zombie safe zones in your city is not a bad idea, either. There is a safe zone in just about every large city in the world–but you've got to know how to get there.
And to get some practice for the big event, the yearly Zombie Walk (Crawl, Scavenger hunt, whatever your locals prefer to call it) is not a bad way to spend an autumn afternoon in the underbelly of your urban hometown. You can get more information about the walks in your area here.
And you are not going to get very far out your front door without a small arsenal, such as that found in the Gerber Zombie Apocalypse Survival Kit
. It features three Gerber blades, including the Gerber LMF II Infantry, Gerber DMF folder, and Gerber Epic. The kit also includes two machetes (the Gerber Gator Machete and Gerber Gator Machete Pro), a high performance axe, Bear Grylls Survival Series Parang, and a handy canvas carrying case, since your hands will likely be preoccupied with Zombie ass-kicking. There is really only one name to trust when apocalyptic fire is raining down on your parade… Gerber.
Zombie Costumes
And during your party, people could dress up like zombies with make-up and masks. This is a perfect way to practice disguise techniques to infiltrate the nests of the dead and slaughter them from the inside out. However, since this is a party, one should enjoy themselves. What better way to soak up the fun than to be the life of the party? The perfect item to accomplish this is the Creepy Zombie Horse Mask
! It is a latex mask made to look like a rotting horse head. It is complete with fur and hair for the mane to fly in the wind as one goes trotting from guest to guest scaring up conversation. In addition, the whole thing glows in the dark! It is bit pricey, running around $80, but it should be worth it to be the hideously horrifying hit of the party.
So once this party kicks off into high gear, one will want to look their best and be comfortable at the same time. Well ladies, here is something that should fit the theme of this party. Iron Fist has a Zombie Tank Dress
that has a killer look to it. It is black on the back and stretched across the front is a zany image of a zombie face. The neck is cut low to reveal just a bit of cleavage to attract that hunky stud. The bottom hem hovers about mid thigh and since it is made of cotton, it should be flexible enough to walk in. Or, maybe run in if a gang of zombies happens to get to that stud first.
Speaking of running, Iron Fist has the perfect footwear to go with that dress. They are the Zombie Stomper Platforms
. These shoes feature a kooky zombie face scrawled across the tops while red, blood-like splotches adorn the inside. The shoes have a 4.5 inch (11.4 centimeter) heel that is raised just enough off the ground to look sickly cool while keeping your feet well above the guts and gore of the zombie corpses you have just laid waste. As a bonus, these Stompers glow in the dark! Perfect for parties! Not only will you look good, but you'll be able to kick ass as well!
If this happens to turn into a pool party, Iron Fist has you covered – literally. They make a Zombie Chomper Bandeau Bikini
that can be worn under the dress. It features a face of a walking dead creature separated in half on the two pieces. The eyes bugging out adorn the top while the smiling mouth, with its skeletal teeth, is plastered across the front of the bottoms. This is perfect for taking the occasional dip to cool off from all of that dancing, running around, or to just wash off all of that blood splatter from zombie slaying. Because, even in a crisis, one must remain calm and maintain one's modesty.
There are lots of other products out there with the zombie theme. Things like movie tie-ins such as hats and t-shirts, and mugs with movie logos splashed across them. Other custom t-shirts featured slogans like, zombie hunter, and survivor of the zombie apocalypse.
This was a quest to uncover items of the horrid hoard for those lovers of the grim and grotesque. This lurid list of repulsive items screamed to be assembled and given life because of their fantastic uniqueness. If you are even morbidly curious, check them out and have fun in the process. After all, you only live once!
Editor's note: Or is that twice, as we are not yet finished with our wish list of zombie awesomeness.
Zombie Movies
The gruesome list compiled below is a collection of the best zombie-themed titles out there. It has something for everyone; and hopefully, everything for the zombiephile in all of us. This list spans the entertainment mediums from movies, television series, etc. It was assembled in hopes that one may find something new to chew on and digest. Most of these titles can be found on Netflix, YouTube, or Amazon. Most of it may be familiar enough, however, some are rather obscure. Mind you, these are in no particular order so read on and enjoy! Venture out and try them, if you dare!
Night of the Living Dead (1968) – This is the classic cult movie by George A. Romero that basically began this sensation. It is a story of a group of people on the run from hungry zombies. They find a farmhouse and try to hide. The tensions rise as they deal with the situation while time runs out. This movie should not be missed if one is a true zombiephile, or even a lover of classic movies in general.
Get it here.
Resident Evil (2002) – starring Mila Jovovich came out in 2002. This hit movie spawned a series of successful movies. The sixth one will be released next year. It is based on the long-running and hugely popular video games. This is about an agent of the Umbrella Corporation. The corporation develops everything from toasters to weapons. She discovers they have a virus that could kill everything on Earth and revive these unlucky creatures as zombies. She tries to prevent it from being released, but it is accidentally released into the atmosphere and creates a zombie apocalypse. A very good adaptation from a video game source.
Get it here.
Michael Jackson's Thriller (1984) – This music video was one of the most expensive and elaborate videos released at the time. It prominently featured zombies in a short feature-length story that has them rising up from the graves and dancing with Jackson doing the famous "Thriller Dance" to the song. It is a fun and slightly spooky mini film that will have one toe-tapping to the catchy beat.
Warm Bodies (2013) – This romantic comedy starring Nicholas Hoult and John Malkovich is about a zombie that falls in love with a living human. It has elements of the Romeo and Juliet story where each one is forbidden to see the other for obvious reasons. There is a bit of the John Hughes teen romance stories mixed in for that heart-wrenching sweetness. It is filled with laughs and warm touching moments. For the hopeless romantic, this one is highly recommended.
Get it here.
High School of the Dead (2010) – This is an anime adapted from a very popular manga (Japanese comic book) about a high school that is overrun with zombies. Only a few survivors make it out of the school and try to run from the plague-like swarm of zombies that is afflicting the school and soon the town where they live. This is a short, but very grim series, in the vein of Resident Evil, from Madhouse Productions. This is the same company that produced titles like Vampire Hunter D: Bloodlust, and Trigun.
Get it here.
The Walking Dead (2010) – The hit series found on AMC and based on the popular graphic novel of the same name has garnered huge ratings for the cable station. Upon waking from a coma, a sheriff's deputy finds the world ravaged by zombies. Now he is left to fight the gruesome hoards and fend off any survivors who will do anything to live to see the next sunrise. A gritty portrayal of human needs against human wants to be painted on an apocalyptic canvas. A must-watch for anybody who loves drama, or visual entertainment in general. Fight the dead. Fear the Living.
Get it here.
Shaun of the Dead (2004) – This comedy directed by Edgar Wright and starring Simon Pegg as an average Joe stuck in rut. However, he decides to change all of that when the town inhabitants begin to transform into zombies. It becomes a race to win back his girlfriend, makeup with his mother and save his precious pub in this story peppered with English wit and humor. It is very well done and enjoyable, especially if one enjoys English humor.
Get it here.
Zombieland (2009) – A comedy with an all-star cast including, Jesse Eissenberg, Woody Harrelson, Emma Stone, and Amber Heard, is about a meek guy trying to get to Ohio to find out if his family has survived the storm of zombies. Along the way, he meets up with interesting people that accompany him on his journey. One of them is a good ol' boy that is on a mission to find the last Twinkie. They are joined by two sisters trying to find an amusement park which is supposedly a refuge for survivors. I would not recommend this for the younger crowd as this is rated R for violence and language. Basically, it is "a comedy that kills."
Get it here.
Zombie Ass: Toilet of the Dead (2011) – A comical take on the zombie theme from Japan, this movie has everything one ever wanted in a parody. There are martial arts scenes, beautiful Asian women, a Godzilla-type dubbed voice-over track, poop-covered zombies rising out of an outhouse hole, ridiculous plot, flatulence, and again beautiful Asian women. What more could one want? Lightly entertaining, if one likes crazy plots and "toilet" humor.
get it here.
World War Z (2013) – It is based on the best-selling book by Max Brooks. This is about a family man and investigator named, Gerry Lane, facing a pandemic of zombies spreading like wildfire. As it sweeps across the globe, he follows it. He witnesses cities and nations collapsing like a house of cards. He tries to stay one step ahead of the plague to try to find the source of the disaster. He believes, if he can find that, he can find the solution, but time is running out quickly. This movie stars Brad Pitt as Gerry Lane and was directed by Marc Forster of Quantum of Solace fame. The movie did very well in spite of the negative press precluding the opening of the movie. In fact, there is a buzz about a second film.
Get it here.
28 Days Later (2002) – This film begins at a laboratory with animal activists releasing caged monkeys infected with a virus. This virus causes a mindless rage in its subjects and it quickly spreads and infects all of London. The protagonist who was involved in the raid was knocked unconscious. He fell into a coma and after twenty-eight days he awoke to find the world had changed drastically. It is a fight for survival in this very realistic take on a zombie apocalypse. It was a very well-done movie that was both exciting and depressing at the same time. Cillian Murphy was a strong force in the movie and helped center the story and along with Danny Boyle's directing guided the viewer emotionally through this chaotic time. A great movie that, like a really sweet chocolate cake, may only be ingested once every so often.
Get it here.
Here is a bonus suggestion for those who still want more.
Zombie Stomp (1996) – This song is sung by Elvira Mistress of the Dark. Yes, the Queen of Halloween, the Hostess with the Mostess, herself sings this holiday-themed song about going out and killing zombies. It is a fun, light-hearted ditty that harkens back to the innocent era of the 1950s where the monster movies were creepy and silly at the same time. It can be found on her compilation album titled: Elvira Presents Revenge of the Monster Hits. Incidentally, Ozzie Osborne has a song by the same name. It can be found on the No More Tears album.
Be sure to read Erich's book Is Love Ever-lasting? available in digital download through Smashwords.com. It will also soon be available at other digital book stores, including Apple iBookstore, Barnes & Noble Nook, and Kobo.
Erich is the author of the thriller, Is Love Everlasting? He has a BA in Communications from Colorado State University. He lives in Arvada, Colorado with his cat, who always tries to help him with his writing. He enjoys watching movies, writing poetry, or reading a great book. Follow Erich on Facebook at http://www.facebook.com/erichswritingspot. Get his book at Smashwords: http://www.smashwords.com/books/view/410406