This summer the "Wingman" app will be coming to an airline lavatory near you. The app's designer, Gabe Whaley, is hoping he will be able to bring on a lot more members to the mile high club with the use of this smart tool. The way it works is you will be able to locate willing members seated on your same flight, and then meet up with them for some raunchy sex.
The only problem I see, is sex on an airplane is not exactly as natural as the birds and the bees. You kind of need to have been there and done that to know how to navigate such a tight terrain.
These are a few of the positions I highly recommend.
The Meet And Greet- "Say Hello To My Little Friend"
Getting Down to Business- "The Throne Wars"
Finishing Up- "The InSinkerator"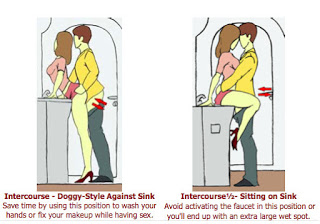 Here are a few more tips from the experts at Maxim, and a nice little video to make sure you don't get lost on the way to the back of the plane. Happy sailing.
Single and sexy. Hello ladies..