On this style tour of Western Europe, outfits were selected from designers that embody each nation's sense for menswear.
Even if you don't speak the native tongue where you're going, style is one of the most effective ways of fitting in. By executing a current look from a classic designer, you're sure to pay proper homage to the country you're visiting.
U.K. – Gieves and Hawkes
Gieves and Hawkes is one of the biggest names on Savile Row in London. This charcoal bioelastic suit is a suave combination of a great silhouette and top-notch craftsmanship. The yellow button up adds a fresh pop of color underneath London's default color: gray.
España – Zara
Whether you're going to a botellón (think giant pre-game in an open field) or a discoteca, Zara is guaranteed to have something for you as the voice of Spanish fashion. The retailer is well known for the huge quantity of designs it cranks out each season. While this is more of a casual take on modern menswear in Spain, botellóns are becoming more popular, so expect the informal nature of nightlife to also grow.
France – Dior Homme
Paris Fashion Week brought on a wave of new fashions, but street style sensibilities seemed to trend towards navy and black. With that in mind, there's no better label for French menswear than Dior Homme. The black lapels also demonstrate how color blocking is becoming better integrated into men's clothing.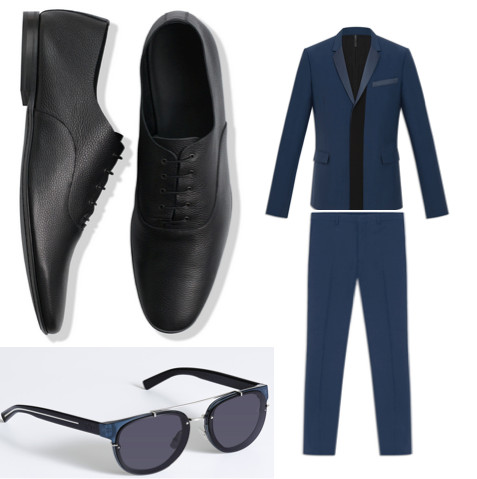 Italia – Emporio Armani (Giorgio Armani)
Giorgio Armani is your go to designer for men in Italy. At the most recent Fashion Week in Milan, neutral plaids were a very visible choice for patterns and fabrics. This darker suit is more of a winter option, but be sure to lighten your color as the weather warms up. Also look for thinner, lighter plaid fabric transitioning into spring.
Deutschland – Hugo Boss
Berlin may be the current capital for all things hipster, but that doesn't mean you can't style a classic designer like Hugo Boss accordingly. Red jeans rarely indicate a casual, relaxed look, but Germany's style is a more eclectic and colorful than most. The cellphone case is a cool accent that ties into the color scheme.
Sweden – Acne Studios
This last look all comes from Acne Studios of Sweden. Similar to fellow Swedes Ikea, the pieces they make go together almost too well (as in you have to buy the whole set for the look to work). The shirt, suit and shoes are so well styled together, it makes sense to buy the outfit as a whole.
Jason Wilson is a creative innovator trying to learn everything he can about this hectic vortex called life. He currently perform freelance social media, PR and web promotion strategies. Follow Jason on Twitter: @JasontheJumbo