Tia Blanco (a.k.a. Tia or Ti-Ti) is about to explode over the surfing scene at just 16 years of age. She is currently leading the women's 18U division, and is undefeated for the 2013 season.
She is a natural beauty both on and off the water, and has surfed in California, Hawaii, Costa Rica (she was born in Puerto Rico), New Zealand, Australia, and Mexico. She will likely be joining the world tour by the time she is 18. However, until then, we caught five minutes of her time to find out what we can look forward to over the next 20 years of her domination in the sport.
Urbasm: What has been the defining moment of your surf career so far?
Tia Blanco: The defining moment in my surf career so far was definitely traveling to Tahiti with the Reef team.  It was such an amazing experience. I had the chance to have Raimana, the main local in Tahiti, mentor me and show me his home. He helped me catch some of the best waves of my life at Teahupoo.
Urb: What is your worst experience in a contest?
TB: My worst experience was at an NSSA (National Scholastic Surfing Association) contest in Huntington Beach. The waves were massive and my friend and I got caught by a set and her leash got wrapped around one of the pilings and she almost drowned. It was a very traumatizing experience and I am glad we both are alive today.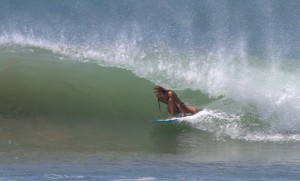 Urb: What goes through your mind as you prepare to surf?
TB: Before I go out to surf I am usually thinking of the things I need to focus on to make my surfing better. I also like to listen to music to get into a peaceful mindset. My coach, Mike Lamm, also helps me to stay confident and focused on winning my heat by being smart and strategic.
Urb: When you're not surfing, what do you do for fun?
TB: When I am not surfing I love to do artistic things. I like to paint, make jewelry, and train my cute little puppy Koa Bear! Other than that, I like to go hang out with my friends.
Urb: What do you have planned for the remainder of the year?
TB: I am planning to go to Barbados for a Junior Pro contest and the North Shore for a photo shoot with my clothing sponsor, Volcom. I am stoked to spend the winter on the North Shore.
Urb: What does it take for a guy to get your attention these days?
TB: For guys to get my attention they have to have a kind heart and a good sense of humor; like my boyfriend, Colt Ward.
And we'll leave you with some video of Tia in action, and her favorite motto: Always do your best at whatever you do, because that will make the difference between good and great.
Good luck Ti-Ti!
Eric has written for over a decade. Then one day he created Urbasm.com, a site for every guy.