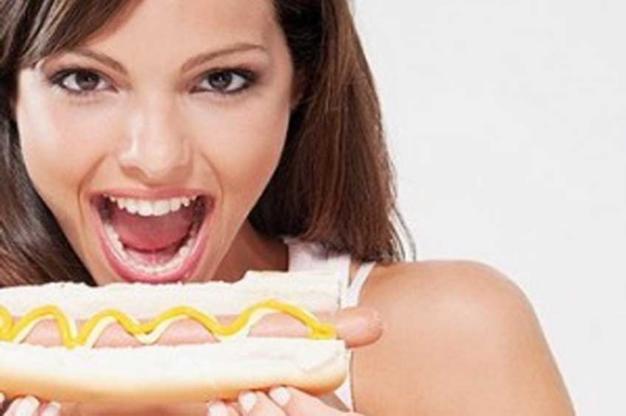 Summertime is a time for peach  cobbler, mustang convertibles, baseball games, and hot dogs. This most recent Fourth of July celebration encouraged American's to shovel over 150 million dogs down their gullet, which is nothing compared to the 7 billion they'll be eating throughout the remainder of the year. All-in-all, we consume 818 of these phallus-shaped treats every second of every day, and with those kind of numbers, you better make sure you're eating the good ones, as not all hot dogs are created equal. In case you didn't already know, a "frank" is code for all beef, and a "weiner" is usually infused with pork.
Hot dogs were bred to be mostly cheap food. There are a few odd balls that have claimed their fame by being known as the most expensive, such as the "Dragon Dog," invented by Vancouver's DougieDog. Its ingredients include Kobe beef, which is infused with Louis XIII cognac, which retails for $2,000 per bottle. However, this is cheap compared to the dogs sold at New York's 230 Fifth, which sell for $2,300, including a dollop of caviar, 60-day dry-aged wagyu beef, and Vidalia onions caramelized in Dom Perignon.
With this said, the majority of us guys don't need anything fancy. We just go down to the local dine-and-puke, and take whatever they have available. There are a few exceptional places on the map, which have been reviewed extensively by Forbes, and while we'd love to travel cross-country tasting hot dogs from LA to New Hampshire; we'd probably have a heart attack by the time we left Vegas. Instead, we've decided to have a shootout with a few of our favorite national brands that you can find just about anywhere.
So, grab a bottle of Pepto and let the dogs begin:
DQ Chili Cheese Dog (Rating: 2 out of 10)- DQ, we love your blizzards, but your dogs leave little to be desired. The bun was mushy; the dog was small and not that tasty, and the chili was bland and lifeless. Yeah, there was cheese on there. However, that's about all we can really say good about it. We would not order again. DQ really needs to get on the ball and update those dusty old dogs. This was not a good way to start the shootout, but the evening was young, and we still had three quarters of Pepto left.
Five Guys Bacon Cheese Dog (Rating: 6 out of 10)- Now, Five Guys certainly know how to make a good dog. We like how they split it down the center, and cook it right in front of you. It also makes it easier to eat. For all you cheese and bacon enthusiasts, you should know they use real cheese, whole pieces of bacon, and they aren't stingy about it. As a minor drawback, these dogs were definitely more greasy than the others, which might not be a bad thing for some. These were also the most expensive out of the bunch. All-in-all, it was a good effort.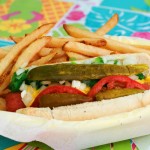 Hamburger Stand Deluxe All Beef Dog (Rating: 7 out of 10)- When we arrived at the drive-thru, we were surprised to be given a choice between an "all beef", or "standard" dog. This prompted us to wonder, would someone actually turn down beef, in exchange for infused pig bits? None-the-less, this dog took us by surprise. It was cheap and had good flavor. The Chicago-style veggies were very crisp and fresh. We'd prefer to have the option to add celery salt, which should be a staple on this sort of thing. However, we forgive their ignorance, and would order again.
Sonic Bacon Cheese Pretzel Dog (Rating: 9 out of 10)- We're already fans of Sonic's Chicago dog. However, if you're a fan of soft pretzels, their pretzel dog is good too–damn good. If you are not a fan, you might become one if you'd give it a try. We like the fact that it doesn't get squishy or soggy. The flavor of the cheese, bacon and the sauteed onions were a nice combination. We've read reviews where some people said the bacon is a little flat; we disagree. Without question, this was our favorite dog of the bunch; especially for its low price, which is about half that of Five Guys.
Ball Game Dog (Rockies) (Rating: 7 out of 10)- We couldn't resist throwing in a stadium dog in the mix while watching the Colorado Rockies lose. However, no matter the outcome of the game, you can always count on winning with their hot dogs. They feature a decent size dog; the buns aren't mushy, and you can add your toppings any way you like. These aren't exactly cheap, but they are more reasonable than the beer; so we're not complaining.
We invite you to drop in your own favorites if you disagree with us. We're certainly not the experts when it comes to inserting long meaty cylinders into our mouths.
Lover, fighter, and bona fide sex expert.