If we were given the choice between an Aston Martin Vantage S and a Vanquish Volante, we'd begin by carefully weighing all the pros and cons.
Since traffic tickets are something we try to avoid, both the Vantage S and Vanquish Volante would receive a con, considering their 6.0-liter V-12 powerplants, each punch out about 565 bhp. However, if we were planning on running from the ticket (cops), the Vantage S is decidedly faster at 0 to 60 in less than 4-seconds, and a top speed of 205 mph. The Volante is no slouch, either, considering it can hit 60 mph in just a bit over 4-seconds, and has a top speed of 183 mph.
Out on the road is where the Volante really comes to life. You see, the Volante is Aston Martin's sport convertible, and as most guys can attest to; there is just something special about a girl who drops her top. And while this convertible may not be as potent as the Vantage S in a race, it is extremely confident on any twisty mountain road, thanks to having shed a couple hundred pounds through the use of carbon fiber body panels, and an aluminum chassis.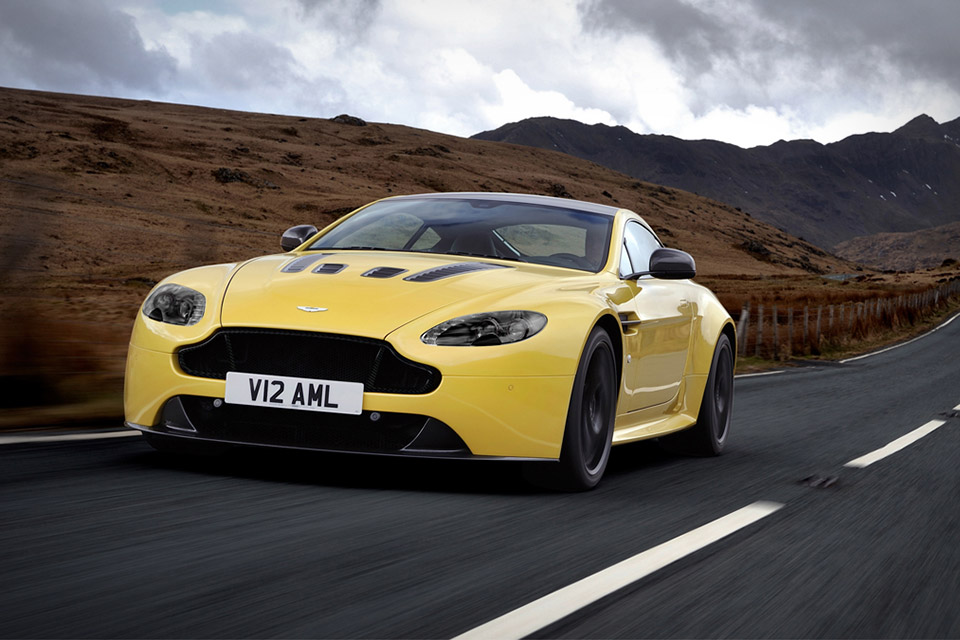 The Vantage S is less worried about being nimble, and more focused on making it a necessity for all passengers to bring a clean pair of underwear with them for the ride. The Vantage is somewhat of a gentleman's race car, featuring CNC machined combustion chambers, a hollowed camshaft, seven-speed manual transmission, and three-stage adaptive suspension. It also comes standard with 19-inch black alloy wheels, a carbon fiber grille, and a blacked-out roof.
Did we mention the Volante can drop her top? And we're not talking about for the second or third date. She will shed her exterior cover in just 14-seconds, revealing one of the most gorgeous interiors that $300,000 will buy you these days. If you think that a 6.0-liter V-12 sounds spectacular from the interior, wait until you hear it from the outside.
The Vantage has a well-designed interior too. It is brand new for 2014, and features a new soft touch finish for the doors, seats, and controls.
So, with careful consideration, we'd take both these Aston Martin's. However, not because they are just too similar, but rather because sometimes we like our Martin's shaken, and other times we prefer them stirred.
Eric has written for over a decade. Then one day he created Urbasm.com, a site for every guy.