I've tried a lot of bean brownie recipes, and it probably won't surprise you to hear that the majority tasted like… well, a bit like My Hankey. Well, I'd imagine, anyway…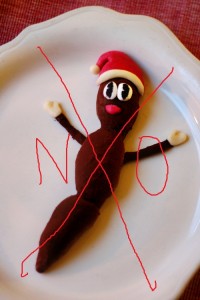 After much disappointment, I finally came across a recipe that tasted suspiciously close to the real thing. I say suspiciously, as anything healthy that tastes good just seems too good to be true. I can say that many of the women I have tried this on have said it reminded them of fudge, and that's almost as good of an aphrodisiac as a shirtless Chris Hemsworth petting a baby bunny. You may be wondering, why substitute beans for the grainy goodness of flour? Well, if you are allergic to gluten (gluten-intolerant), you probably don't want to be stuck in the bathroom while your date is half naked in the next room eating brownies. In addition, if you are looking to achieve six-pack abs with a situp regimen, the carbs found in beans burn slower than processed flour, making you leaner in the process. In addition, beans also create an environment in your body's temple that leads to less insulin saturation, and inflammation, and will help you absorb more minerals. All this adds up to definitely receiving some benefit from a plate of gooey brownies. That is enough talk; Let's get cooking!
Ingredients:
2 cups dried black beans (or one can of beans- not chili)
1/3 cup melted coconut oil (or melted butter)
1/4 cup cocoa powder (organic for a more chocolatey taste)
3 lightly beaten eggs
1/2 cup coconut sugar (or equivalent)
1/2 cup chopped dark chocolate
1/3 cup chopped nuts (walnuts, preferably)
1/8 teaspoon salt
2 teaspoons vanilla extract
Preheat the oven to 350°. Dump all the ingredients into a blender or food processor, minus the chocolate and walnuts, and murder them until the resulting texture is smooth, creamy, and shiny. Now, stir in the chocolate and walnuts, and spread out onto a greased 8X8 pan. Bake for 25 to 30 minutes (stick a knife in to make sure it comes out clean), and your brownies are done. Enjoy!
Other Recipes
Manly COTM – White Claw Summer Spiked Seltzers
The Best Beef Jerky Mac & Cheese is the Simplest
The Best Breakfast Recipes for The Morning After
Eric has written for over a decade. Then one day he created Urbasm.com, a site for every guy.