Tyran Richard, Playmates Miss March 2007 and cover model for Shirley of Hollywood lingerie understands sexy. She understands that when a man is faced with the decision to buy his lady sexy evening wear he gets but one chance. One chance to show how he sees her, one chance to prove how well he really knows her and one chance to give her the proper tools of the trade to work together with his own tool and make what the ancients used to call, coitus!
A guy is a guy and many of us can throw a curve ball, speed shift a SRT-10 Viper and take down ten shots of Tequila without falling off a bar stool. But when it comes to picking out a lacy panty and bra set, most of us would rather keep our suits and ties in the closet rather than our own selves. This leaves most of us with absolutely no idea where to begin when it comes to the purchase of lingerie. Add to the lethal combination a mile of lace, 10 strategically placed peek holes, 30 color variations and another 300 styles to choose from and it's easy to see why a guy would rather settle for the "Saturday night usual" than embark on a risqué lingerie purchase.
Since we all can't borrow Tyran Richard for a day to walk through the lingerie department and explain the proper etiquette of lingerie shopping; Have her try on a couple of your favorites and then take a few pictures as keepsakes. I have taken it upon myself to do most of the dirty work for you. I caught up with Tyran at the Shirley of Hollywood boutique in Los Angeles and asked her to give us men a few pointers about how to select the proper lingerie for most any sexy lady.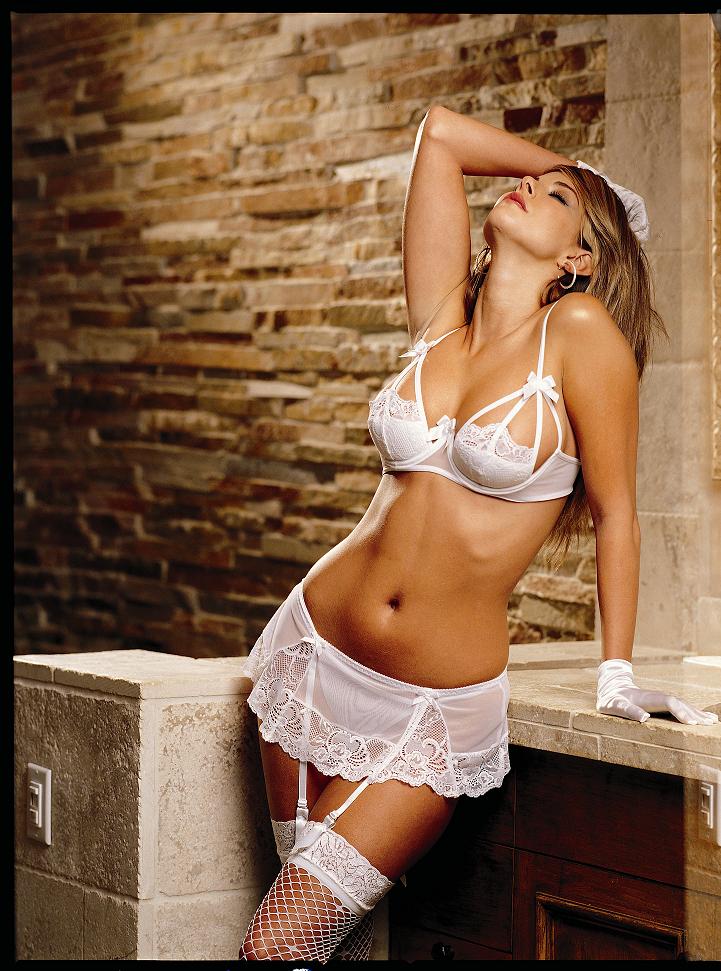 Tyran recommends as the first thing that every man should do upon stepping into a lingerie store is "find someone close to the size of their lady and relay that to the salesperson." Be careful how you present such a finding, as "tits like hers" will leave you as unpopular as a G-string panty slip on Rodeo Drive on a Friday night. If possible you may prefer to look into your ladies drawers for a bra, panty and dress size. Contrary to popular belief this is not inappropriate unless you either do not know the woman; try on a few numbers for your own titillation or end up playing a pair of well oiled bongos with Lance Armstrong and Mathew McConaughey.
You really want to get this initial step correct Tyran cautions, "Buying her a size that is too big is a no, no– we do tend to get our feelings hurt and would rather it be form fitting than too big." You wouldn't stroll into an auto part store and ask for engine oil without having any idea what "weight" you needed and the same goes here. The wrong weight decision could potentially lead to an engine seizure before a guy can even get his dipstick in the tube.
According to a survey by Shirley of Hollywood, over 50% of men and women prefer black lingerie over their next favorite color, red. "Buying her fav' color is a big bonus," says Tyran. "But if you don't know her favorite color, then stick to basic black because it's always sexy!" Color is a very personal choice as is style. To get the style right, it is helpful to know the traits that your lady likes to flaunt as well as hide. A stylish bustier looks flattering on just about anyone, excluding perhaps Rosie O'Donnell of which a paper bag would be the most cost effective sexual stimulant. The bustier can actually be worn just as comfortably in the bedroom as in a nightclub. Women love clothing with dual purpose and when one of those purposes involves sex, so do us men!
With style in mind, Tyran reassures that "men shouldn't be afraid to buy their lady lingerie that they like (themselves), not just what they think their lady will like" Tyran recommends imagining what type of outfit would look best, such as a sheer baby doll, a classic bra, panty and garters or perhaps a simple silky boy short with matching robe. "Lingerie is all about fantasy," says Tyran "and being sexy and outrageous." You may even want to try to shake things up with a role playing outfit if you think she'd go for it.
With today's complete lines of adventure bedroom wear you have the choices of naughty school girl, pirate vixen, saloon dance hall hussy and even party-time Britney pantiless miniskirt with disposable pink razor and bald head wig. However, if she loves her lingerie so much that you have a harder time getting her out of them than into, you might want to expand on your available opportunities with an 'open' cup and 'open' crotch style panty design. That means no more fiddling with bra hooks and dental floss waistbands. She gets to keep on her favorite outfit and you get to play with her goodies. That's called compromise folks, in its most raw and simplistic form.
Above all, Tyran recommends doing a thorough investigation on the likes of the intended wearer before you purchase any lingerie for her. Put some careful thought into what the lingerie will mean and how it fits her personality and style. If you have a hard time with the prospects of shopping for lingerie for your woman, it just might mean that you do not know her as well as you thought you did. And if this is the case, you may also have to wonder if you should even be buying her lingerie in the first place. According to the above mentioned survey, 36% of women need six to nine months to be comfortable with receiving lingerie as a gift from their lover and only 19% would go for it at about three months (and no they will not give out any of their phone numbers—I already asked).
If there is anything to take with you at the completion of this article, it is to first always make sure that it is actually a bongo you are playing whenever Lance and Mathew are around. Second, to remember the wise words of Confucius, "Happy lady in lingerie make for happy man… once lady is out of lingerie"—touché!
Eric has written for over a decade. Then one day he created Urbasm.com, a site for every guy.