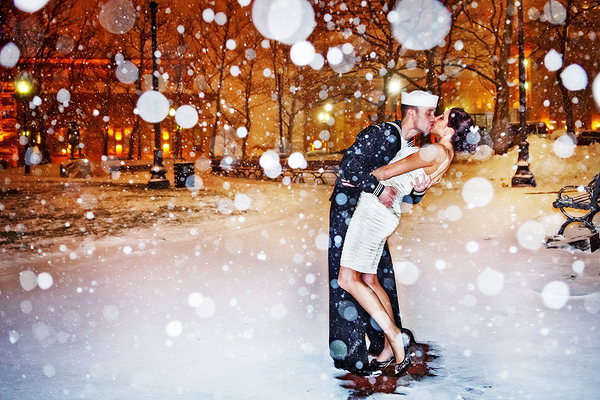 Urbasm's resolutions for the coming 2013 are to complain more, eat more, drink more, lie more, cheat more, drive faster, work slower, and watch a whole lot more reality television with the aid of an adult diaper. Then, when next year rolls around, we resolute to tone down all these bad habits, and follow through with at least one of them! However, we're not recommending that you do as we do, but rather as these seven resolutions say.
Find Conviction– A man without conviction identifies himself by his profession. Having only his work to give him purpose, drives him to be a workaholic, leaving him tired and cynical at the end of the day. Don't allow yourself to expend so much energy, that you have nothing left for your lover.
Use the KISS Principle– It is sometimes difficult to communicate with your girl, but despite whatever issues you have, one thing that can almost never go wrong is… a kiss. Kissing stops arguments, creates pair bonding, and will leave your partner wanting more!
The Source of Joy– From the time he is born, a man is told he must be good at sports, academics, and his chosen career. However, it is more productive to be the driving force behind your women's  happiness, then to base her joy off your own value and success.
Hinder Hurtful Habits– A man creates distance and disappointment if he chooses to brood over unimportant details. However, sometimes he must look bad, especially if this includes his own hurtful habits. Criticizing, lying, blaming, and threatening, will destroy the trust in your relationship.
Follow a Woman's Guidance– The missing rib of Adam is a controversial topic. However, many men are unable to access the tender spots of their heart without following a woman's guidance.
 Learn to Argue– Use the word "I," instead of "you," and focus on listening to your partner, rather than winning the argument. The only way to come out ahead, is to understand the process of a successful compromise (solution that satisfies you both).
Revive Curiosity– Never let bad feelings harbor in your relationship. Say something nice at least once a day, and maintain enthusiasm by continuously rediscovering your lover through your curiosity.
Eric has written for over a decade. Then one day he created Urbasm.com, a site for every guy.