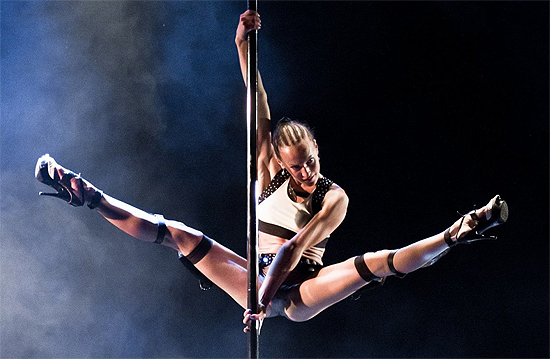 Pole dancing dates back hundreds and even thousands of years through the Chinese and Indian heritage. It was a means to both entertain and train. Sensual dancing can also be dated back thousands of years, but it wasn't until the exotic (a.k.a. Hoochi Coochi) dancer arrived during the Great Depression of the 1920s, that men would truly be 'inspired' by the mixing of the two ancient art forms. Female dancers would travel to fairs, where large tents would be set up, and the poles in the center would be utilized to entertain crowds with their suggestive hip movements.
The Canadians caught wind of a few shows, and by the 1980's it was a full-blown sensual treat for men throughout North America. Over the next couple decades, pole dancing as an art form began to retrace its steps and rediscover its roots as a form of training and extreme fitness. Today, the idea of a pole dancer is no longer taboo. In fact, it is currently being proposed as a future Olympic event. The whole world has become a stage for pole dancing, and this is a round up of some of the best and fittest in the business.
South Africa's Jenyne Butterfly
Incredible Performance by Jenyne Butterfly
Ukraine's Anastacia Sokolova
Russia's Anastasia Shukhtorova
Australia's Miss Porsche
Japan's Yukari
The Infamous Oona Kivela
And the Diva Herself, Nicole "The Pole" Williams
If you enjoyed this, see our best movie strip scenes for pole dancing and more.
Eric has written for over a decade. Then one day he created Urbasm.com, a site for every guy.